Small Businesses Protest Bus AC Transit International Blvd. Project
Posted in Business, Community, Economic Development, Gentrification
By Ken Epstein
Small business owners on International Boulevard held a rally this week calling on AC Transit and city officials to mitigate the negative impacts of the new Bus Rapid Transit (BRT) project, which utilize dedicated bus lines in the middle of the boulevard, eliminating traffic lanes and reducing street parking.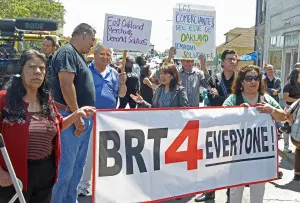 "We 're not trying to stop the BRT, but we want to make sure that BRT doesn't stop us, " said Andy Nelson, of East Bay Asian Youth Center, speaking at the rally.
"The BRT should be for everybody. We are not all new and shiny, but we are definitely East Oakland," said Nelson. He pointed that there are 900 businesses with 2,500 employees located on International Boulevard, including markets, appliance and furniture stores and auto and truck repair shops.
The rally was held Tuesday at the intersection of 20th Avenue and International Boulevard.
International Boulevard merchants protested Tuesday, asking AC Transit and the City of Oakland to mitigate the negative impacts of the Bus Rapid Transit (BRT) project on their businesses. Photo by Ken Epstein.
The merchants are proposing solutions that will help them mitigate disruption to regular business operations during, and after construction. They are also asking for relocation assistance in case some businesses become unviable in this new street configuration.
AC Transit and city officials, who have been meeting with merchant groups, say they are implementing mitigation plans. The community-based mitigation proposals were developed by the Eastlake Merchants Association, San Antonio Business Association and other small business owners, assisted by the East Bay Asian Youth Center.
The BRT project will cost about $200 million. The merchant's mitigation proposals would cost about $6 million.
BRT is planned to run 9.7 miles from Downtown Oakland to Downtown San Leandro. A little over 500 parking spaces will be lost, and almost all left turns will be prohibited.
On the 7.2 mile stretch between 14th Avenue and 107th Avenue, vehicular traffic on International Boulevard will be reduced from four lanes to two lanes.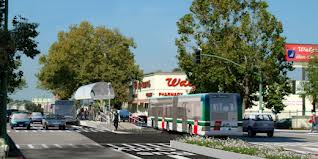 AC Transit and the City of Oakland this week announced that their staffs have developed a Business Sustainability Program for the (BRT) Project. Under their proposal, AC Transit will underwrite regular construction impact mitigation activities as well as a Business Sustainability Program.
Oakland and AC Transit are saying they will spend about $23 million for parking and business impact mitigation measures and design features to minimize the impact of the project and enhance the corridor for the local community.
They say they will spend $10 million of curb-to-curb repaving, lighting, pedestrian and bicycle safety improvements and will meet with community stakeholders all along the BRT corridor.
The merchants want the project to make up for parking losses, increase public safety services for pedestrians where parking is lost, provide loading zones to offset the loss of a traffic lane and offer financial assistance for businesses that lose revenue.
"I have had my business for over 40 years. I rely on customers being able to load in windows and shower-glass by the curb. My shop is in the middle of the block, and I have no back alley," said Manuel Romero, owner of a glass shop in the light-industrial San Antonio neighborhood.
"Can AC Transit explain to me how BRT riders will be able to shop windows, furniture, and appliances from me, and from my merchant neighbors? With BRT I may have to close my business," he said.
According to Nelsen of the East Bay Asian Youth Center, the merchants are meeting with officials and making progress.
"We're heading in the right direction. But we're not there yet," he said. "We still have to close the gap."