Richmond and San Pablo Protest Against Charter School Expansion
Richmond City Council on Tuesday will consider supporting a moratorium on new charter schools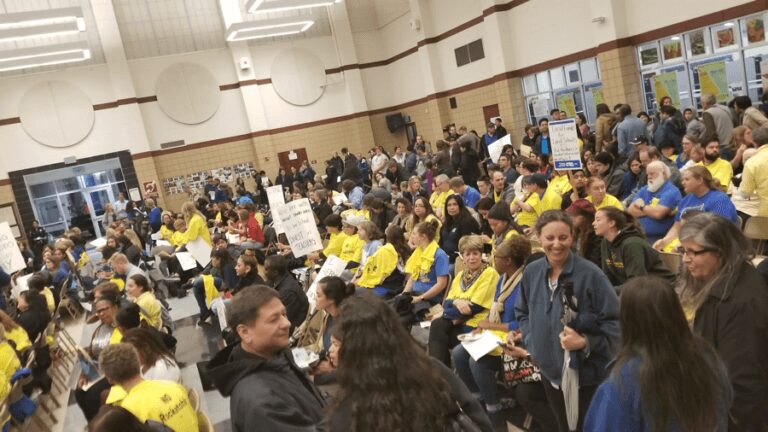 By Francisco Ortiz
Teachers, students and residents of Richmond and San Pablo rallied this week at the Board of Education meeting of the West Contra Costa Unified School District (WCCUSD) to oppose charter school expansion.
Over 500 people packed the auditorium at Lavonya DeJean Middle School as the school board held its first public hearing for the Rocketship San Pablo Elementary Charter petition.
Many of those opposing the charter petition wore yellow and blue shirt, supporting the efforts of United Teachers of Richmond (UTR) to stop the opening of a new Rocketship school.
Vice Mayor of San Pablo, Genoveva Garcia Calloway testified before the board, opposing charter school expansion in her city.
Families and teachers from Bayview and Lake Elementary schools in San Pablo showed up in large numbers because they fear their schools would close if Rocketship opens its doors.
As the discussion ended, the charter opponents left the auditorium chanting, "Hey, Hey, Ho, Ho, Rocketship has got to go!"
Rocketship, founded in 2006, opened its first school in San Jose, California in 2007. The chain expanded to serve other communities in Northern California as well as Milwaukee, Wisconsin; Nashville, Tennessee; and Washington, D.C.
On Tuesday, Nov. 21, the Richmond City Council will consider supporting a moratorium on new charter schools.
Opponents of charter expansion and school privatization in West Contra Costa are urging members of the public to attend and speak out.
Before the meeting, supporters of the organization Defend Public Education will gather at 6 p.m. Richmond City Hall, 440 Civic Center Plaza, Richmond.