Flatland Students Could Lose Access If AC Transit Cancels Bus Service to Hill Schools
"Resegregation of our schools is not an option," says Rev. Hubert Ivery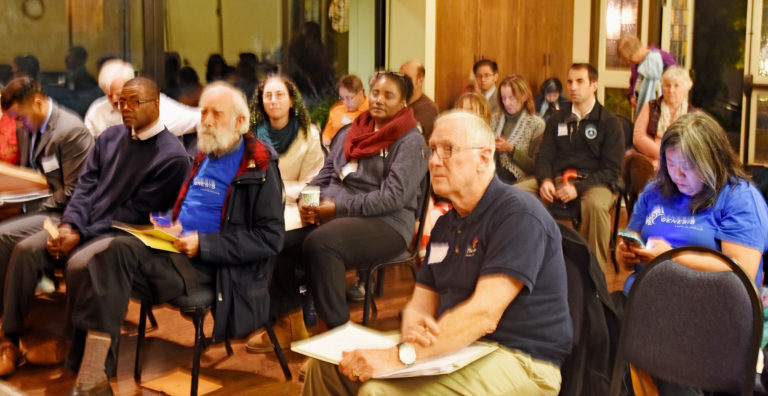 By Ken Epstein
Community members are keeping up pressure on the Oakland Unified School District and the AC Transit District to find $2.5 million to maintain dedicated bus lines for over 1,600 mostly flatlands students who depend on daily bus transportation to attend Montera Middle and Skyline High schools in affluent neighborhoods in the Oakland hills.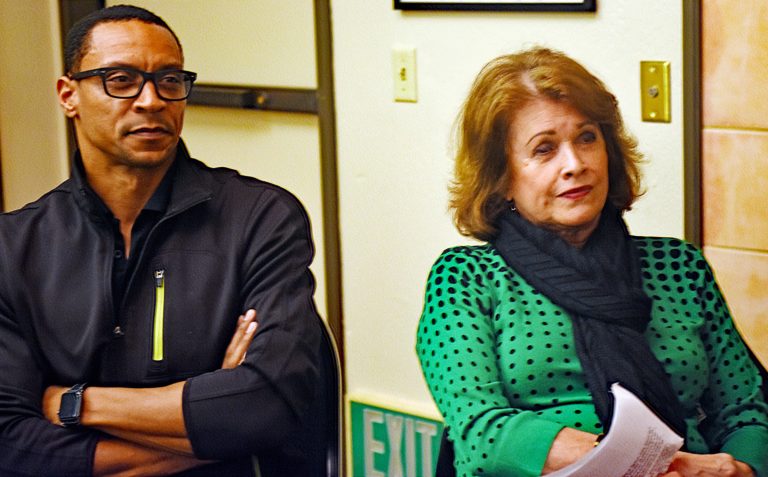 A community meeting with representatives of AC Transit and the school district to report on the progress of locating funds to continue bus service next school year was held Monday night at Corpus Christi Catholic Church on Park Boulevard.
The meeting was organized by Genesis, a faith-based social justice organization, composed of member congregations and affiliated with the national Gamaliel Network, which hired and trained President Barack Obama in community organizing in the Southside of Chicago, Illinois.
"The snapback toward segregation is trending in many parts of this county," said Rev. Dr. Hubert Ivery, president of Genesis.
"This discontinuing of buses to the schools is not option. Resegregation of our schools is not an option. Denying access to students who want access to quality schools is not an option," he said.
"We need to hold our ground, so we don't go back!"
Speaking at the meeting, Elsa Ortiz, president of the AC Transit Board of Directors, said the bus agency and school district "are really working together to solve this situation."
"The problem is that both agencies depend on federal and state funds" which is not enough, she said.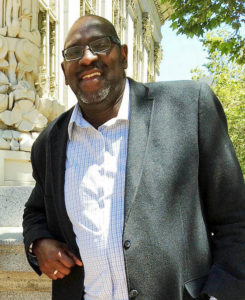 Bus transportation to the Oakland hill schools costs AC Transit $4.5 million a year, said Ortiz. In comparison, the cost of service to 35 other school districts in Alameda and Contra Costa Counties costs the agency $5 million.
Some members of the AC Transit board from other areas have no interest in using agency funds to support Oakland schools, Ortiz said.
In January, the school district informed the bus agency that it would no longer pay the $2.5 million for the bus routes. For the past 20 years, the state had given the district the money, which was earmarked to pay for bus service.
However, changes in state funding regulations have allowed the school district to begin to utilize the funds as it saw fit.
The current temporary agreement, passed in May by the AC Transit Board, preserved bus lines, 56 buses, which last year served 1,615 student a day, according to Ortiz.
Board of Education President James Harris said that last year, when the bus service was threatened, the two public agencies were able to work out a temporary fix.
"We did save the day last year. We did it for this year. We don't know for next year. We want to know by April," he said, adding that the district is talking to the city and other agencies in the hope that they will contribute to saving the bus service.
Harris pointed out that the school district is facing desperate financial conditions and has little wiggle room.
"We are certainly looking at giving more money for the buses," he said. "But every dollar we direct, that's somebody's job (that's cut)," he said.
Montera Middle School Principal Darren Avent said two-thirds of Montera's 778 students rely on AC Transit to attend school.
"We have at least one student from every elementary school in Oakland. AC Transit leads to the diversity we are proud of," he said.
When the news came out last school year about the possible ending of bus transportation, "we lost several families," Avent said.
According to state statistics, Montera's student body last school year was 37.9 percent African American, 18.9 percent Latino and 21.9 percent white.
Skyline High School Principal Nancy Blooms said two-thirds of her students come to school by bus. "If that goes away, those kids go away. If it is reduced to a neighborhood school, that would completely segregate it. That's not OK."
Skyline last year had 1,843 students, 31.3 percent African American, 40.2 percent Latino and 6.1 percent white.
She continued. "We are under-enrolled by 56 kids (this year) because families could not count on bus service."
As a result, the school lost 4.6 staff members, $156,000 from the site budget.
"We can't wait until May to know what is happening," she said. "Families are already making up their minds for next year. We can't leave huge numbers of families in the dark."
Open enrollment for next school year started this week and ends Jan. 26.
If the bus lines are eliminated, the schools could resegregate. In addition, the schools might have trouble surviving with so few students. And OUSD could take a huge financial hit if large numbers of affected families decide not to send their students to other district schools.