Despite Opposition, Council Members Will Discuss "Cover-Up" of OPD's Violation of Sanctuary City Status
Did Mayor Schaaf block City Council discussion of ICE raid to shield Police Chief´s false statements?
Full discussion set for Dec. 5 Public Safety Committee meeting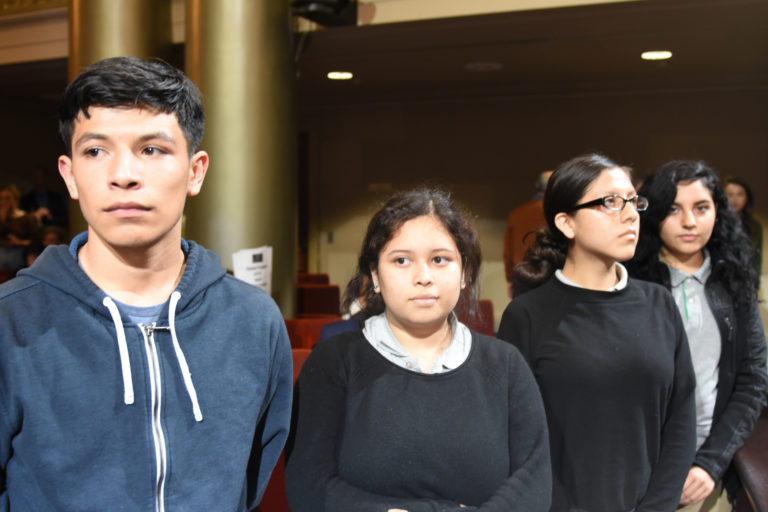 By Post Staff
Oakland City Councilmembers Desley Brooks and Rebecca Kaplan, seeking information and accountability, last month called for a staff report to be discussed at the Public Safety Committee on the controversial actions of Immigrations and Customs Enforcement (ICE) that took place in West Oakland on Aug. 16
Brooks and Kaplan, as well as many members of the public, had expected the discussion to be held Nov. 14 at Public Safety, but the item was pulled at last week's Rules and Legislation Committee by Councilmembers Annie Campbell Washington and Abel Guillén.
Some are voicing concerns that the item may have been pulled by Mayor Libby Schaaf's administration as an attempt to short circuit the current internal investigation of the Chief of Police.
The Rules Committee, which normally sets the agendas for council committees, had originally scheduled the item for a hearing at Public Safety for Tuesday, Nov. 14.
An independent investigation conducted by the Oakland Privacy Commission had concluded that several false statements were made by Oakland Police Chief Anne Kirkpatrick about the incident and the OPD's assistance to HSI/ICE had constituted a violation of sanctuary city policy.
"There has been a significant amount of concern with respect to the raid that took place. The events surrounding the ICE operation were especially troubling because the City Council has set a sanctuary policy that bars any city employee, including police, from assisting federal immigration agents when they are enforcing civil immigration laws," said Councilmember Brooks.
Asked by the Post for a comment on the mayor's possible involvement in pulling the item off the calendar, spokesman for Mayor Schaaf Justin Berton responded.
"It is simply untrue," he said.
Councilmembers Guillén and Campbell Washington did not respond to the Oakland Post's request for a comment.
At Tuesday's Public Safety Committee meeting, Guillén did not explain his position.
According to reports, officials made public statements incorrectly alleging the undocumented immigrant who was detained by ICE was wanted in connection with a criminal matter and that the issue had to do with human trafficking. These allegations seem not to be based on the facts that are known so far.
Oakland police officers performed traffic control duties during the Aug. 16 raids, according to reports.
Many remain unclear as to why the item was taken off calendar.
However, the actions of the mayor and city administration fit a pattern, according to some. City Hall observers say this current dispute is an egregious example how the mayor and city administration respond to City Council decisions they do not like. They do not say anything, they just do not carry out those resolutions.
Staff had already completed a report for the Public Safety Committee item and published it on Legistar for public noticing and were prepared to report on it. Neither the City Attorney's office nor Oakland Police Department staff had requested that the item to be pulled.
According to Councilmember Brooks, the rationale for pulling the discussion from the agenda was that the issue had been forwarded to OPD's Internal Affairs Department.
However, the report's sponsors say the report does not appear to interfere with the investigation. The report asks for facts and to reaffirm that the City of Oakland is a Sanctuary City that will not use any of its resources to assist with "ICE" or "HSI" requests.
"There is no justifiable reason for pulling the item," said Brooks, speaking at the Public Safety Committee meeting.
"I think it's inappropriate to try to hide this report and vital that we clearly protect our community from "ICE," said Kaplan.
Earlier this year, Councilmember Kaplan authored legislation to cut ties between OPD and ICE, and on July 18, the City Council unanimously passed the resolution.
This directive was not adhered to, she said.
The Brooks and Kaplan request for information included:
A chronological timeline and review of the Aug. 16 HSI/ICE raid;
The date the OPD/ICE Memorandum of Understanding (MOU) was officially terminated; and
Any and all Oakland police department involvement in, and tasks, at the HSI/ICE West Oakland raid on Aug. 16.
Despite the cancellation of the agenda item, Kaplan and members of the community went ahead with a discussion of the controversy at this week's Public Safety meeting.
Councilmember Brooks, who heads the Public Safety Committee, has joined with Councilmembers Kaplan and Gallo to submit a resolution that strongly reaffirms Oakland as a Sanctuary City and prohibits city agencies from working with ICE.
"It is vital that we not allow this incredibly important issue to be swept under the rug. The (issue) was cancelled, no reason was given," said Kaplan. "We are a sanctuary city – we do not collude with ICE."
Councilmembers, including Guillén, voted to hold a full discussion of the issue of at the Dec. 5 Public Safety Committee meeting.
Ken Epstein contributed to this article.