Report: Oakland Can House 2,000 Homeless People in 6 Months "If Political Will Exists"
November 2, 2018
|
Last Updated September 21, 2021
|
|
Affordable Housing, Community, Equal Rights/Equity, Gentrification, Homelessness, Housing/Foreclosures, labor, Oakland Job Programs, Reentry/Formerly Incarcerated
Real number of homeless in Oakland is over 9,000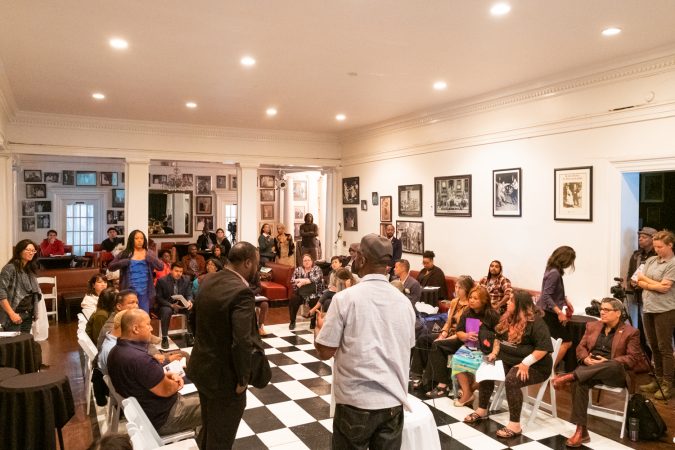 A number of Oakland groups released a "Community-Based Oakland Plan to House the Unhoused" at a press conference Monday at Geoffrey's Inner Circle in downtown Oakland. Among the speakers were Needa B of The Village, Margaretta Lin of the Dellums Institute for Social Justice and Candice Elder of the East Oakland Collective. Photo by Amir Saadiq.
The Housing and Dignity Project released a report this week showing that solutions to housing Oakland's unhoused residents are available, if the political will exists.
A collaboration between The Village, the East Oakland Collective, and the Dellums Institute for Social Justice, The Housing and Dignity Project's report, "Housing Oakland's Unhoused Report," is available on the Dellums Institute's website, http://dellumsinstitute.org/community-justice-data/.
It is the perfect response to the recently released UN Report that called out only two cities in the US for human rights violations of the homeless–Oakland and San Francisco.
As the UN Special Rapporteur on Adequate Housing, Leilani Farha, decried in the recent special report, "The world has come to accept the unacceptable." With escalating income inequality and "systemic exclusion" of the poor, nearly one in four of the world's urban population lives in informal settlements or encampments—883 million people.
These intolerable conditions exist not only in Mumbai, but shockingly, in US cities like Oakland and San Francisco.
With Oakland's out of control housing market and 75 percent increase in median rents since 2014, escalating numbers of Oakland's working poor have lost their homes.
Said Needa Bee, leader of The Village, "It took the United Nations to validate what unhoused people have been saying. Instead of working with us, the City of Oakland has bulldozed community housing, denied its residents struggling to survive access to basic rights to water and sanitation, evicted encampments, and criminalized the homeless."
Spurred by the City of Oakland's failure to adequately house over 9,000 unhoused Oakland residents (a more accurate number according to the Alameda County Healthcare for the Homeless Program research), the Housing and Dignity Project recently convened unhoused residents to design strategies that can provide immediate and long-term housing solutions.
"Unhoused residents who have been the most impacted by Oakland's insane housing crisis know what solutions look like. The problem is that few people are willing to listen," said Candice Elder, leader of the East Oakland Collective.
The "Housing Oakland's Unhoused Plan" harnesses alternative building solutions and community ingenuity with available public land that could provide over 7,000 new housing units for the unhoused.
As former Oakland Deputy City Administrator and co-architect of the Plan, Margaretta Lin, said, "I was at the City of Oakland during the Great Recession and witnessed firsthand the power of government to solve big problems. We need government to unleash their full powers to partner with unhoused residents and reverse Oakland's current course. Systemic exclusion and human rights violations are happening on our collective watch."
The report identified short term emergency solutions implementable within six months including:
Housing 1,200 people in tiny home villages for up to $7,500 per unit;
Housing 800 people in mobile homes for up to $35,000 per unit;
Utilize 50 parcels of available public land in Oakland that could produce 7,300 housing units.
These scalable solutions could immediately house 2,000 people for about $23 million, less than the cost to build one 40-unit building. In addition, the Housing and Dignity Project has identified city, county, and state available funds for their plan.