Clergy Leaders Endorse Desley Brooks While Mayor and Developers Raise Money to Defeat Her
November 3, 2018
|
Last Updated September 21, 2021
|
|
Affordable Housing, Business, Desley Brooks, Elections & Voting Rights, Elections 2018, Equal Rights/Equity, Gentrification, Homelessness, Housing/Foreclosures, Illegal dumping, Immigrant Rights, labor, Politics, voting rights
Posted in Affordable Housing, Business, Desley Brooks, Economic Development, Elections & Voting Rights, Elections 2018, Equal Rights/Equity, Gentrification, Homelessness, Housing/Foreclosures, Illegal dumping, Immigrant Rights, Labor, Politics, voting rights
Brooks' opponents are spending nearly $400,000 in District 6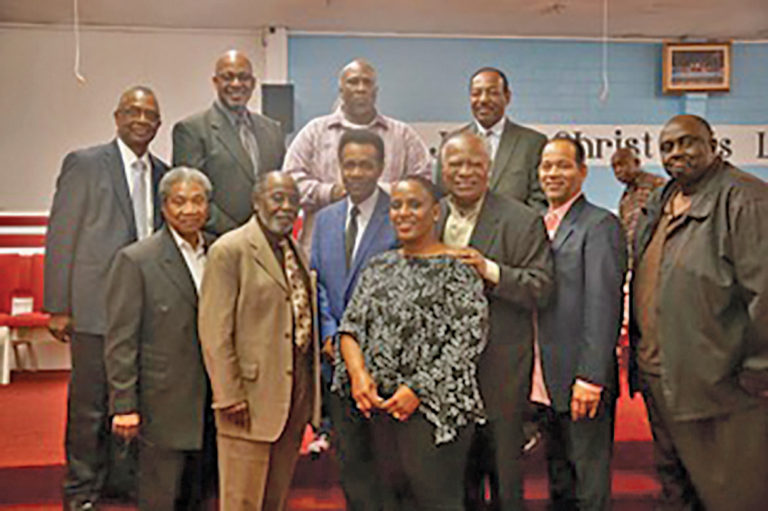 By Ken Epstein
A huge amount of outside money is being spent by outside interests tied to Oakland Mayor Libby Schaaf and her developer and building trades allies to back the candidates who are trying to unseat veteran City Councilmember Desley Brooks.
Brooks, who has significant grassroots support and financial backing, is facing four opponents and two Political Action Committees that have war chests totaling over $360,000, close to five times as much as Brooks has raised.
"The influence of outside money has been dictating and changing the culture of our city for years now," said Angela Thomas, a lifelong resident of Oakland and former family childcare provider who has lived in District 6 for 14 years.
"Now, it seems that same money, currently being directed by Mayor Libby Schaaf and her big money donors, is seeping into a local election in our neighborhood, distorting the facts, rehashing old news and aiming to take out an elected official who has consistently stood up to them and who has also stood up for us, and I take it personally," she said recently in a media release for a press conference on the steps of City Hall.
"The Mayor and her donors are using her power, influence and big money to take out Desley and poison the water in a local race," said local civil rights attorney Dan Siegel, a District 6 resident.
The largest of the two PACSs that are funding mailings and canvassing against Brooks is "Oaklanders for Responsible Leadership, Opposing Desley Brooks for Oakland City Council," which has $81,665 in donations but has already spent $114,479 as of Oct. 20.
Many of the donations to this PAC come from regional and statewide building trades unions, which do not hire very many Black workers on Oakland projects and work together with developers to support continuous gentrification and displacement of local residents.
Among the donations are: Sprinkler Fitters and Apprentices Local 483 PAC in Sacramento for $15,000, International Brotherhood of Electrical workers Local 595 in Dublin for $10,000; Sheet Metal Workers Local Union No 104 in San Ramon for $10,000; and the State Building and Construction Trades Council of California for $10,000.
Other contributors to the Anti-Brooks PAC were Libby Schaaf, $999.99; Oakland Metropolitan Chamber of Commerce, $7,500; Kenneth Schmier, self-employed investor in Emeryville, $4,990; Lisa Schmier, retired, in Larkspur, $4,990; and Kim A. Thompson, attorney, PricewaterhouseCoopers, $2,500.
The other PAC, "Citizens for a United Oakland, Opposing Desley Brooks for City Council," has raised $26,100 and spent $31,320 as of Oct. 20.
Donations to this PAC include: Robert Spears, Shoreline Venture Management, $4,500; Derek Benham, Piedmont CEO of Purple Wine, $4,500; Stephan Pezzola of Oakland, business consulting Yorkshire Ventures, $2.500; and Frank Yeary, Berkeley, Executive Chairman, Camberview Partners, $1,000.
Of the four candidates running against Brooks, the one with the most donations is Loren Taylor, who has worked in non-profits and is a PTA president. As of Oct. 20, he listed campaign contributions of $141,041.
Among his contributors are: Jeremy Zachary, Gold Coast Industries, $800; Joe Simitian, Palo Alto, Santa Clara County Supervisor, $800, Andrew Deangelo, General Manager Harborside Health Center, $700; and Louise Godfrey, Piedmont, $600.
Taylor loaned his campaign $8,000 of his personal funds.
Natasha Middleton, a management analyst at the Alameda County Probation Department, has reported $68,874 in donations and $74,862 in expenditures as of Oct. 20.
Her contributions include: International Brotherhood of Electrical Workers Local 332 in San Jose, $1,600; Leigh Morgan, Seattle, executive, Bill and Melinda Gates Foundation, $750; Northern Calif. Carpenters Regional Council, $1,600; Plumbers & Steamfitters Local 460, Bakersfield, $1,000; Southern California Pipe Trades District Council 16, Los Angeles, $1,600; and Plumbers and Steamfitter Local Union No. 230, San Diego, $1,600.
Marlo Rodriguez, a Registered Nurse, has raised $24,534 so far. She has loaned $16,680 to her campaign. The donations to her campaign are mostly about $100.
Mya Whitaker, a counselor for foster youth, has raised $15,691 at Oct. 20.
Her funders include William Koziol, Crockett, $800; Rebecca Vasquez, Sacramento, $800; Khalil Yearwood, San Francisco with Gibson Dunn, $800; Jason Burke, Sunnyvale, corporate/business official, Aosense, $800.