Oakland Schools Open with Students and Community Volunteers Hard at Work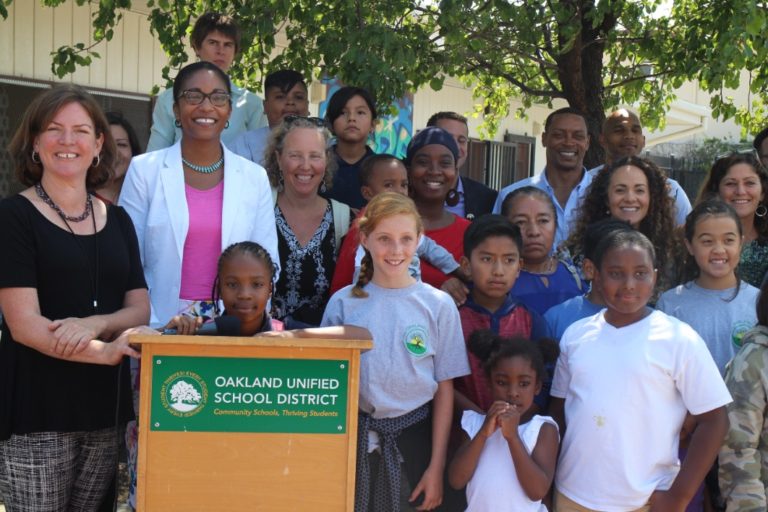 By Ken Epstein
Oakland Unified School District Superintendent Kyla Johnson-Trammell kicked off the first day of school with a tour of hill and flatland schools, starting the day at Montera Middle School, which she had attended as a child.
She visited Martin Luther King Jr. Elementary School in West Oakland, taking part in a backpack and school supply giveaway courtesy of Kaiser Permanente, Lend a Hand Foundation and others.
At Fremont High School in East Oakland she visited an architectural drawing class, a multilingual media arts class and woodshop. At Franklin Elementary she went to classes and to the cafeteria where students were eating lunch.
She also visited Rudsdale Newcomer Program at Hillside Academy where more than 100 employees of the Golden State Warriors were assembling furniture, beautifying the grounds and painting the campus.
Johnson-Trammell's last stop of the day was for a brief press conference at the brand new dual-immersion language middle school, Oakland SOL, which was created through a three-and-a-half year partnership between the district and students, parents and community members, including Oakland Community Organizations (OCO).
What was most outstanding about the day, she said, was "seeing all of the community and all of the city support for our schools."
"It´s been a great day seeing all of the hard work," she said. "That's how we´re really going to have community schools, having everyone pitch in together.
"I know many times people outside of education think we are relaxing in June, July and August but all of us here know the real deal. That's when the real work happens," she said.
"After all of the planning and the thinking, we've (finally) been able to see the fruition of all of that," said Johnson-Trammel.
School Board President James Harris underscored the excitement the board, district staff and the school community feels about having such a highly qualified, homegrown superintendent.
"We are very excited as a school board and as a community," he said. "I don't think I´ve ever seen this level of excitement about our leadership, about our superintendent," he said. "I am extremely happy to be able listen to a superintendent talk about coming up in Oakland."
"Our students can see the path to their success," Harris continued. "We have our own legends living today, who came from this soil.
"It's important that we know that Oakland is much more than the news headlines, and it is a place of winners. It is a place of people with faith. It's a place of people with commitment."