"Unite Against Hate," Say East Bay Leaders
August 25, 2017
|
Last Updated September 21, 2021
|
|
Against White Supremacy, Berkeley, Equal Rights/Equity, Ferguson/Black Lives Matter, labor, LGBT, Police Public Safety, Racial profiling, Reentry/Formerly Incarcerated, Responsive Government
Posted in Against White Supremacy, Berkeley, Equal Rights/Equity, Ferguson/Black Lives Matter, Labor, LGBT, Police-Public Safety, Racial profiling, Reentry/Formerly Incarcerated, Responsive Government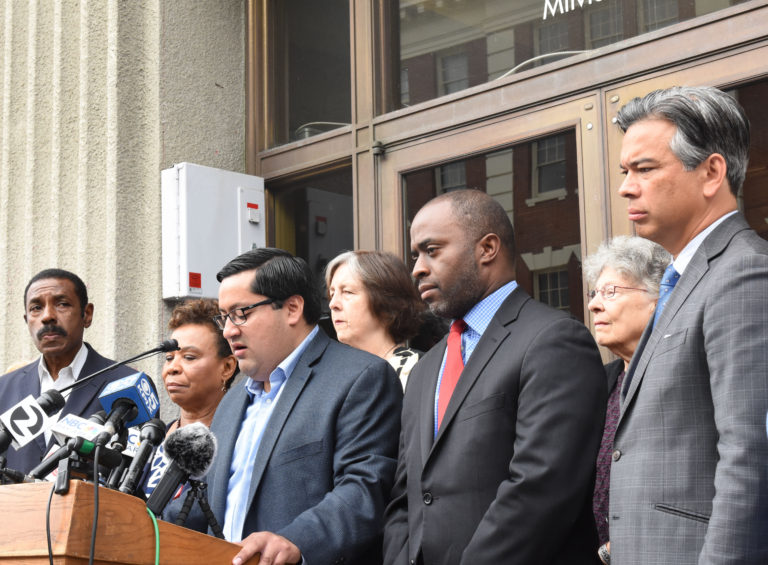 East Bay leaders speak at a press conference Tuesday, prolcaiming that local communities are united against against hatred and bigotry and committed to nonviolence. Left to Right: Supervisor Keith Carson, Congresswoman Barbara Lee, Berkeley Mayor Jesse Arreguín, Senator Nancy Skinner, Assemblyman Tony Thurmond and Assemblyman Rob Bonta. Photo by Ken Epstein.
By Ken Epstein
Congresswoman Barbara and other East Bay political leaders held a press conference at Berkley City Hall Tuesday to condemn hatred, bigotry and violence as local communities prepare for white supremacists rallies planned for Saturday in San Francisco and Sunday in Berkeley.
"President Trump has emboldened white nationalists, but we must hold steadfast to our progressive values as a community, regardless of the challenges," said Congresswoman Lee.
"We cannot allow anyone, certainly not the president, to roll back the clock on progress. We must stand united against hate," she said.
Growing up in the South, she said, "I have seen the kind of world these demonstrators want to create."
Joining Congresswoman Lee at the press conference were Berkeley Mayor Jesse Arreguín, Senator Nancy Skinner, Assemblyman Tony Thurmond, Alameda County Supervisor Keith Carson and District Attorney Nancy O´Malley.
Some protesters are planning to confront the white supremacists in downtown Berkeley. Others are calling for a rally, supported by labor, faith-based organizations and Democratic clubs, in another part of Berkeley to demonstrate the Bay Area's commitment to oppose racist terrorism.
Berkeley Mayor Arreguín urged people not to to confront the white supremacists.
He underscored the city´s support for free speech for all points of view but drew a distinction between those who want to express themselves and those who come to town seek to terrorize the community.
"We are working to keep our public safe," he said. "We are not going to allow bigotry and hate in our community."
Organizers of the rallies in San Francisco and Berkeley claim they are not white supremacists, but according to Mayor Arreguín the discussion on social media about the events indicates otherwise.
Senator Skinner announced she is introducing a bill to strengthen California´s anti-hate crime laws calling on local, state and federal law enforcement to treat white supremacists as terrorists and direct law enforcement to use all available options to prosecute members of these groups.
"If their intention is to terrorize our communities, it makes sense to prosecute them as terrorists," she said.
Local branches of the American Civil Liberties Union (ACLU) issued a statement distinguishing between free speech and marching with guns and other weapons with the intent to commitment violence.
"Thee ACLU of California fully supports the freedom of speech and expression, as well as the freedom to peacefully assemble," the statement from directors ACLU's Northern California, Southern California and San Diego chapters says.
"If white supremacists march into our towns armed to the teeth and with the intent to harm people, they are not engaging in activity protected by the United States Constitution. The First Amendment should never be used as a shield or sword to justify violence."
A large coalition of groups and individuals is holding a "Bay Area Rally Against Hate," which is not organized to physically confront the white supremacists.
According to the rally announcement, "fascists and white supremacists are meeting in Berkeley to try to intimidate us and incite violence. We're meeting near UC Berkeley campus, blocks away and on the other side of the downtown, to speak to each other about the world we want. Join us, bring snacks, bring signs."
The rally, hosted by Unite for Freedom Right Wing Violence in the Bay Area, will be held Sunday, 10:30 a.m. to 1 p.m., at Crescent Lawn, Oxford and Addison streets at UC Berkeley.