"America Untold" Storytellers Come to the Marsh Theater
Posted in Arts and Culture, Community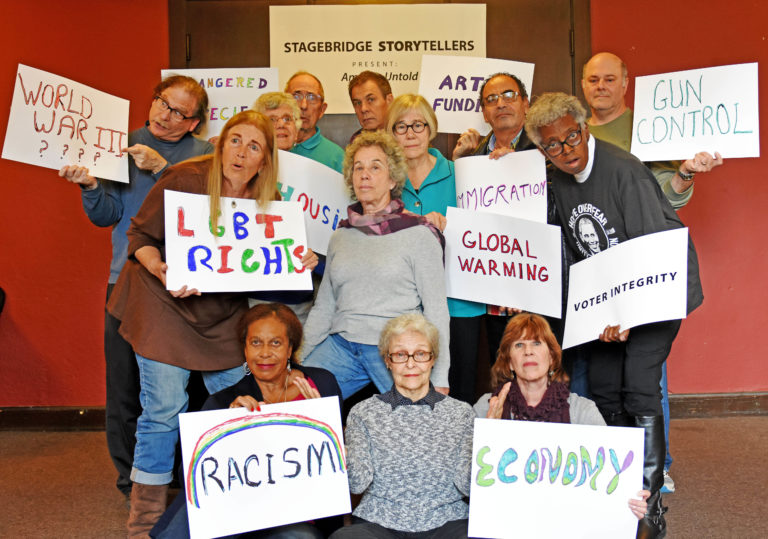 Stagebridge's "America Untold" Storytellers. Photo by Ken Epstein
"America Untold¨ Performance comes to the Marsh Theater A performance of ¨America Untold in Times Unseen – Stories that Let the Light Come In¨ will be held Tuesday, Dec. 12, 7:30 p.m., the Marsh Theater, 2120 Alston Way in Berkeley.
¨America Untold¨ features a series of vignettes produced and performed by Stagebridge Storytellers as part of ¨Times Unseen," the Marsh's ongoing project to chronicle the current political turmoil and its effects on individual lives.
This one-night production showcases the Fall 10-week storytelling class directed by Jeanne Haynes for Stagebridge, Oakland, a senior theater company.
Void of rants or insults, and with barely a mention of the administration, tellers will present their personal stories impacted by current political issues.
Honing their tales into powerful succinct bite-size pieces, with music by classical guitarist Karen Sellinger, Stagebridge tellers and their topics are:
Susan Shampanier – Economy; Harry Santi – Endangered Species; Laurie Baumgarten – Global Warming; Stuart Korn – Gun Control; Judy Kennedy – Housing; Samir Saad – Immigration;
Sarah Strong – LBGT Rights; Beverly Miles – Racism; Ellen Kaufman – Reproductive Rights; Theresa Nervis – Voter Integrity; Scott Ullman -World War III?
Tickets are $10 – $25 sliding scale, $55 and $100 reserved seating.For tickets and more information go to: