Parents and Teachers Angry Over Mid-Year School Budget Cuts
New superintendent left to clean up mess left by former supe and
state mismanagement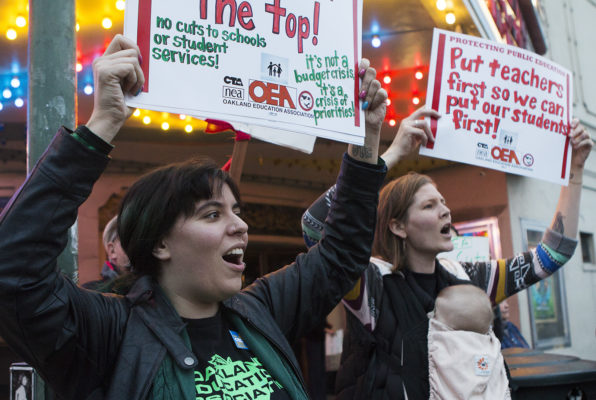 By Ken Epstein
The Oakland Unified School District (OUSD) is preparing to approve $15 million in budget cuts this school year at a special school board meeting on Monday, hoping that these immediate reductions will give the district the financial cushion it needs to stay afloat.
In response, angry teachers and families are planning to attend the board meeting in an attempt to halt or reduce the cuts that directly impact classrooms and students.
"$15.1 million in cuts at this time is not necessary," said Oakland Education Association President Trish Gorham in an email blast last Sunday evening.
"Creating a 'cushion' to allow OUSD the room to make more accounting errors while schools are cutting to the bone is unacceptable," she said. "Cuts to school sites must be eliminated and layoffs of the lowest paid workers in the district reversed."
According to the district, the "fiscal solvency" objectives for this school year include $1.3 million to fully fund the state-required reserve for economic uncertainties, as well as an $5.5 million to fully fund the additional 1 percent reserve that was passed by the Board of Education.
Another $8 million would restore the district's workers' compensation fund, which was used last year to keep the district from going bankrupt.
The district has been struggling to get a handle on a growing deficit that came to light in December and January after former Supt. Antwan Wilson announced he was resigning to take over the leadership of Washington, D.C. schools.
To keep from going into the red this year, OUSD is planning to cut $47.6 million from its budget, $15.1 million this year after already reducing spending by $32.5 million since January of last school year
The district administration has proposed that this year's cuts would be divided between the schools and the central office, roughly 2.2 percent of school site expenditures and 11.6 percent of the central office budget.
Most employees who will lose their jobs this year are classified, non-credentialed staff. Educators with administrative or teaching credentials by state law can only be laid off at the end of June and would not have a budget impact until next school year.
In October, Supt. Kyla Johnson-Trammell met with principals. She asked them to participate in a survey about which of the district's 29 departments they thought should be reduced or cut, rating the central office services they thought were lest critical to the ongoing work of the schools.
The department with the lowest rating was Organizational Effectiveness and Culture, which had been formed under Supt. Wilson and led by the wife of Allen Smith, Wilson's Chief of Schools.
At one point, the office had five administrators. At present, there are two.
Principals also called for cuts in Communications. "Frequent comments related to the recent non-essential growth of this department," according to an internal document explaining the results of the survey.
The department has a deputy chief, director, manager of the district television station and manager of local control of accountability. A director of community engagement headed a team of four staff, now reduced to two.
The principals in the survey rated financial services as important but wanted cuts in Business Operations. "Comments related to cuts seemed largely connected to principals' anger at historical financial mismanagement," the internal document said.
Some employees blame financial staff for not catching the over-expenditures and failing to do anything to halt them.
Another department that faced criticism was the Office of Postsecondary Readiness. "Principals commented that there was significant overhead in this department," the document said.
The administration of the Oakland Athletic League (OAL) came under this department. At one point, the OAL has one staffer and one clerk. Under the Wilson administration, it grew to one executive director and three directors, as well as a part-time support staff.
Among the district departments that were rated as most crucial to the functioning of the schools were Special Educations, Buildings and Grounds, Custodial Services, Human Resources, Purchasing, Tech Services and Cafeteria and Nutrition.
Correction: An earlier version of this article reported that Oakland's adult education program was top heavy with administrators. Some of that information was incorrect and was deleted.