Yuvette Henderson's Family Demands Answers to Shooting by Emeryville Police
Posted in Police-Public Safety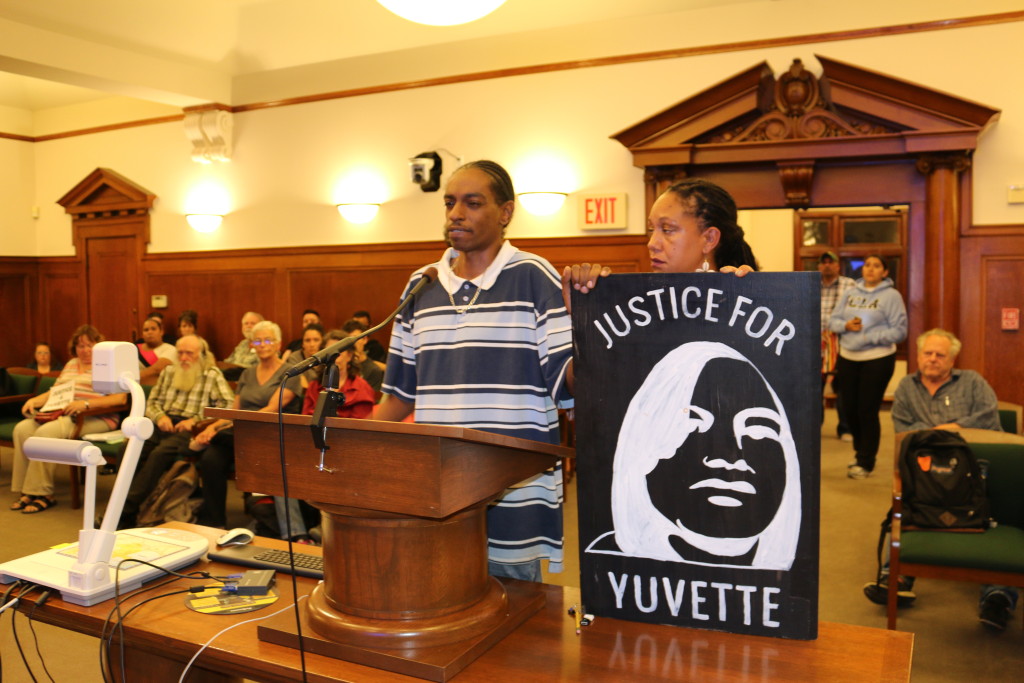 By Tulio Ospina
Nearly 40 East Bay residents packed Emeryville City Council this week demanding that city officials urge the Alameda County coroner's office to release the autopsy report of Yuvette Henderson, who was killed by Emeryville police almost six months ago.
Henderson was killed on Feb 3, when two Emeryville police officers shot her after responding to a report from Home Depot regarding an alleged shoplifting incident.
Store security said the suspect appeared to be armed and had suffered a head injury, requesting an ambulance.
Henderson was pursued by the two police officers, who shot her with multiple weapons, including an AR-15 assault rifle. According to police, Henderson was in possession of a gun but never stated that she aimed the weapon at the officers.
A lot of mystery still shrouds the incident, and the Oakland Police Department, which is heading the investigation of the shooting, and the Emeryville Police Department (EPD) are refusing to release surveillance tapes of the shooting to family members.
On Tuesday, community members spoke one at time, taking up the public comments section of the city council agenda to request the release of Henderson's autopsy report.
"I've talked to the coroner's office and they told me that they're not releasing the report because the police department has asked them not to until the police are finished with their investigation," said civil rights attorney Dan Siegel before the city council.
Siegel announced he would represent Henderson's family in a lawsuit against the City of Emeryville.
"The withholding of information here is strategic," said Siegel. "There is a six month deadline to file claims with the city, which is a prerequisite for filing a lawsuit."
Another demand that community members stressed was the removal of military-grade weapons from EPD, one of which was used when officers fired at Henderson.
"By possessing these kinds of weapons, the police are saying that they are at war with our communities and need military weapons of war to battle them," said one Emeryville resident.