Celebrating My 99th Birthday
September 4, 2015
|
Last Updated September 17, 2021
|
|
San Francisco
Posted in Community, History and remembering, San Francisco
By Ms. Verlie Mae Pickens
Hello there! This is Verlie Mae Pickens.  I celebrated my 99th Birthday on June 11.
I was born in Lake Charles, Louisiana. I am a daughter of Mr. and Mrs. Thomas Alfred Nisby. My mother's name is Lillian Lumpkin Nisby.
I am the fourth child of eight. I am the second daughter, of six girls.
I had such wonderful parents – they were so kind and loving to me, I think because they never thought I would make it to go to school, but I did.
I played tennis, volleyball, and touch football. I had a bicycle. Growing up in Lake Charles at that time, there were no cars, no paved streets.
I took up piano lessons. I was not Catholic, but I went to a Catholic school, where you have to pay to go. The children would fight at the public school.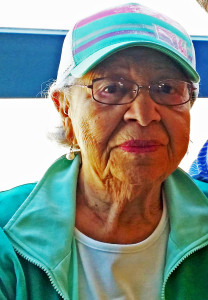 I graduated from Sacred Heart High School in 1936.
When I was about 17 years old, I played piano for my church choir, until I married at 20 years old, a man out of the choir, Mr. Joseph Henry Anderson.
I divorced him and later married Mr. Pickens. I only had one son for Mr. Anderson. My second marriage I had none. Mr. Pickens' full name is Mr. Samuel Vanburn Pickens.
I moved to San Francisco in 1939. I came out to help my young brother's wife. They begged me to stay out here. I have been in San Francisco for 66 years and have been in my home now for 63 years.
I have had some wonderful jobs. I am one of the "Rose Riveter Ladies" who worked at the Lockheed airplane factory in Los Angeles during the war years.
I worked on the "P. 38." They were the fast planes during World War II. My job was to do the riveting on the tail end of the plane.
In San Francisco, I worked at Blum's Bakery, making cakes, pies, and candies. I also worked at Langendorf Bakery, making breads and rolls, until I retired.
I have worked hard all of my life. So did my husband Mr. Pickens. We loved to travel. We travelled through Mexico and Canada. We have visited every state in the United States, except for Rhode Island.
I like to volunteer in the community. I want to encourage everybody, especially all the children and young people and seniors.
We have to give guidance to our children and young people. Nowadays, some of the children and young people don't listen to parents or grandparents, and that's how they get in trouble.
When I was growing up in Lake Charles, my neighbors kept an eye on people. And my neighbors would look out for the children and young people. If one of the neighbors said to me, "I'll tell your mother and father. Before I got home, they already told my parents."
I've seen a lot of changes since coming to San Francisco. One of them is there were no freeways when I came here in 1939.
I went to a meeting recently, where they said that these companies are building now wherever they can find a piece of land. For example, they were tearing up Candlestick Park and the parking lot around it to build large apartment buildings and condos.
They are getting millions of dollars for those apartments and condos. The buyers are coming from other places, buying them up and renting them or renting them out.
I am so deeply thankful to God for All of God's Rich Blessings, and for giving me a long, happy and healthy life.