Tony Thurmond Gains Major Endorsements in Assembly District 15 Race
Posted in Elections & Voting Rights
By Ken Epstein
With election season now in full swing, Assembly District 15 candidate Tony Thurmond is making the rounds to house parties in his district, which includes Richmond, El Cerrito, Albany, Berkeley, Piedmont and parts of North Oakland.
Last Sunday afternoon, he spoke in a backyard in North Berkeley to over 30 supporters who warmly applauded and opened their checkbooks in response to his message, which emphasized his hands-on experience as a member of the Richmond City Council and school board and a nonprofit director.
"I've fought hard to create jobs" and worked to reduce greenhouse gases and to protect the environment, Thurmond said. On the Board of Education, he said, he opposed school closings and worked with others to save over half the schools that were slated for closing.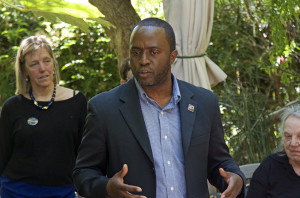 He is endorsed by Congressman George Miller, Attorney General Kamala Harris, State Senator Mark DeSaulnier, the California Nurses Association and the California Teachers Association, as well as the Latino and Black Caucuses in the Legislature.
Thurmond faces a formidable opponent, Elizabeth Echols, who served as Regional Administrator of the U.S. Small Business Administration (SBA) in the Obama administration. She is endorsed by Senator Loni Hancock and Assemblywoman Nancy Skinner.
Other candidates for the District 15 seat, currently held by Nancy Skinner, include Eugene Ruyle, Peace and Freedom, retired Anthropology professor; Bernt Rainer Wahl, No Party Preference, scientist/entrepreneur/professor; Rich Kinney, Republican, City Councilmember and teacher; Clarence Hunt, Democrat, small business owner; Sam Kang, Democrat, Civil Rights organizer; and Pamela Price, Democrat, Civil Rights attorney.