Students Call on SF Mayor Lee Join Efforts to Save City College
Posted in SF City College
By Post Staff
Students rallied and 26 were arrested at City Hall this week, led by the Save City College Coalition, demanding that Mayor Ed Lee join with civic leaders and community organizations that are calling on the Commission of Community and Junior Colleges (ACCJC) to reverse its decision to terminate City College of San Francisco accreditation, putting the college's future in jeopardy.
After a rally and sit-in on Tuesday of several hundred students, at midnight a group of students was arrested for occupying City Hall, after Mayor Lee refused to meet with them or support their demands.
According to the students, the mayor has so far refused to criticize the commission and its decision to close the school. He has backed the appointment Special Trustee Bob Agrella, who they consider a "dictator" whose job is to make cuts and enforce the changes the commission is calling for.
Mayor Lee has over the past month has ignored numerous requests of student leaders for a meeting, according to the students. "If the mayor actually supports City College and its students, he needs to demand the immediate reversal of the ACCJC's decision to close CCSF," said Lalo Gonzalez, a City College student and senator of the Associated Students at CCSF-Ocean Campus.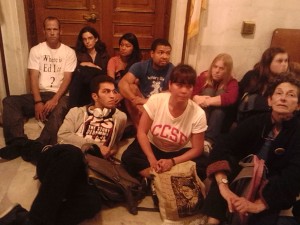 The student demands are: drop all ACCJC sanctions against CCSF, and  fire the special trustee.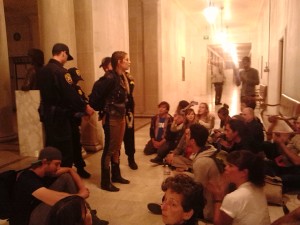 Though the mayor does not have the immediate decision-making power to overturn the ACCJC decision, according to the student protesters, he does have the political and moral responsibility as the leader of San Francisco to throw his weight behind the effort to overturn the ACCJC attacks on City College.
Mayor Lee's office did not return a call from the Post.
For more information go to www.saveccsf.org