Report: How to House Oakland's Unhoused Within Six Months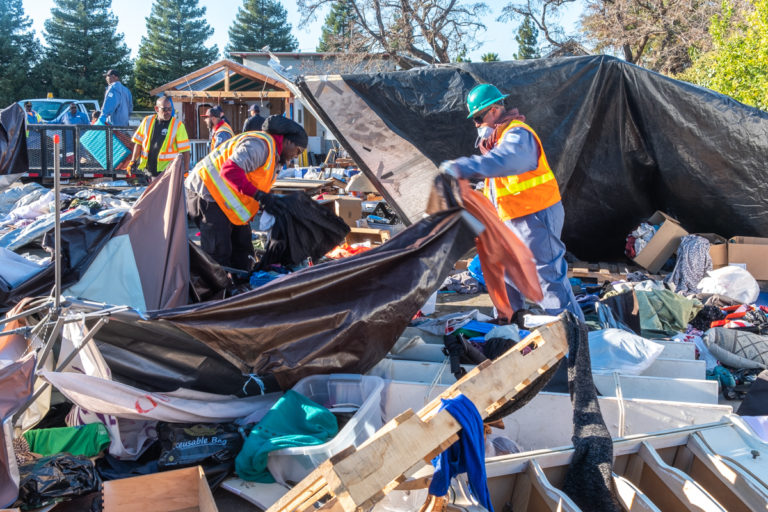 City workers and police officers evict homeless residents Thursday afternoon, Dec. 6, from Housing and Dignity Village, an encampment of 13 women and children on city-owned land at Edes and South Elmhurst avenues in East Oakland. Photo by Amir Saadiq.
The following is the third part of a series profiling the new report from the Dellums Institute/Just Cities for the Housing and Dignity Project led by The Village and East Oakland Collective, Housing Oakland's Unhoused, focuses on what we've all been waiting for—solutions to Oakland's new homelessness crisis.
The Housing Oakland's Unhoused Report very powerfully establishes that the traditional approach to homelessness does not address today's realities where the majority of the homeless only need housing, rather than intensive services, and the costs and time needed to build multi-family housing is insufficient.
Instead, the report offers innovative solutions that would result in providing safe, dignified, and affordable housing to over 2,000 people within 6 months, IF the political will in City Hall and the County exists.
Perhaps the innovativeness of the solutions comes from the fact that the Dellums Institute and the Goldman School for Public Policy partnered with unhoused people and activists from The Village and the East Oakland Collective.
This authentic participatory research model relied directly on the voices, experiences, and brilliant ideas from the people most impacted by the housing crisis. Different from most government community "input" sessions, the research findings and final recommendations were then vetted and approved by the same unhoused people and activists.
The report's Short Term Solutions are implementable within 6 to 12 months. They include low cost and immediate housing building models such as tiny, mobile, or container homes which cost between $7,500 to $35,000 to build, including infrastructure costs.
The report states that it would cost around $23 million to immediately build 1,600 new housing units that could provide dignified housing for 2,000 people.
The report identifies specific resources that are currently available to implement this critical plan, including available public land parcels and new monies for homeless housing from the City, County, and State.
See page 6 of the Housing Oakland's Unhoused Report for more details, http://dellumsinstitute.org/community-justice-data/
Not stopping at short-term solutions, the Housing Oakland's Unhoused Report also lays out Long Term Solutions to build 2,000 units of permanent housing for extremely low income to no income residents.
These longer term solutions include the traditional multi-family housing model that would cost a public subsidy of about $150,000 per unit.
In addition, the report recommends utilizing alternative housing models that are cheaper and faster to build such as container, modular, and prefab homes, which would range from $13,500 to $125,000 of public subsidy per unit.
The report also identifies new funds for implementing these long-term solutions such as the new County Measure A1 funds and the City's new ballot measures increasing the real estate transfer tax on properties selling for over $2 million championed by Councilmember Dan Kalb and also the new vacant lots tax championed by Councilmember Rebecca Kaplan.
Ultimately, the Dellums Institute's Housing the Unhoused Report for the Housing and Dignity Project represents a call to action for all of us who care about Oakland.
No longer can we turn away from the growing homeless crisis, throwing up our hands and saying that there's nothing we can do. There's plenty of strategic solutions available. All it takes is political and moral leadership.
Let's exercise our rights in a democratic society and call our elected officials to implement the Housing and Dignity Project's solutions designed by unhoused people.