Health Advocate Margaret Gordon Receives West Oakland Health Trailblazer Award
Posted in coal dispute, Community, Economic Development, Environment, Equal Rights/Equity, Health, Oakland Job Programs, Responsive Government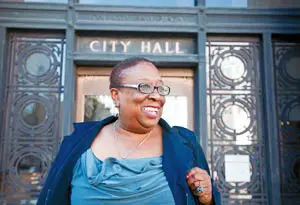 West Oakland Health is honoring Margaret Gordon, co-director of the West Oakland Environmental Indicators Project (WOEIP), with a West Oakland Health Trailblazer Award for her work as a "forward thinker in the field of health care."
"The purpose of the …Trailblazer Award is to recognize and honor an individual who has demonstrated innovation, creativity and overcoming obstacles to meet the challenges of health care delivery in education, clinical service, public policy or community service," according to the award letter sent to Gordon.
Gordon will receive the award at West Oakland Health's 50th Anniversary Gala Celebration Saturday, Feb. 16 at the Marriott Hotel, 1001 Broadway in Oakland.
Gordon co-founded WOEIP in 2003 to fight to clean up air quality in West Oakland, classified as a major "toxic hotspot." The community is located next door the Port of Oakland, a hub for ships and diesel trucking, which produces 90 times more diesel emission participates per day compared to the state of California.
Up until the founding of WOEIP, the voices of West Oakland residents were entirely absent from the Port of Oakland's governing process.
"I was the first member of the impacted community in over 80 years to meet at a table with Port of Oakland executives," said Gordon said in an interview with Breathe California – California Golden Gate Public Health Partnership.
Since the launch of WOEIP, the Port of Oakland has reduced its emissions by 70 percent, and Gordon has been a principle catalyst.
West Oakland Health is a nonprofit community health center with four sites providing primary care, women, children, and infant care, behavioral health, substance abuse recovery services and an oral health program to residents of West, North and East Oakland, Emeryville and Southwest Berkeley.