Public Banking in Oakland Scores a Victory
Posted in Affordable Housing, Community, Economic Development, Gentrification, Housing/Foreclosures, Responsive Government
A public banking forum is scheduled for Monday at City Hall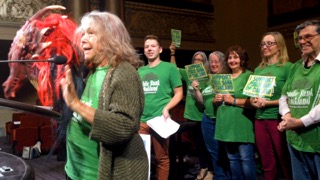 The Oakland City Council this week passed a resolution authorizing a public bank feasibility study, the next step on the road to making the bank a reality.
The resolution, co-sponsored by Councilmembers Rebecca Kaplan, Dan Kalb, and Abel Guillén, authorized a feasibility study of a regional public bank with the ability to provide community benefit lending and handle cannabis business deposits.
The study was funded by the City Council at $75,000, the City of Berkeley at $25,000, and private donors, many from the cannabis industry.
Berkeley Mayor Jesse Arreguín and Berkeley Councilmember Kriss Worthington contributed to the study, making it a collaborative, regional effort, according to Councilmember Kaplan.
Councilmembers Kaplan and Kalb will host a community forum on public banking and renewable energy Monday, Sept. 25, 7 p.m. to 9 p.m. at Oakland City Hall, 3rd Floor.
The forum, co-sponsored by Friends of the Public Bank of Oakland and Local Clean Energy Alliance, will discuss how a public bank in Oakland could help fund local renewable energy resources for our new Community Choice program, and bring jobs and economic benefits to communities throughout Alameda County.
The featured speaker will be Wolfram Morales, chief economist of the Sparkassen public banks of Germany, discussing how Germany's public banks have financed that country's astonishing conversion to 85 percent renewable energy.
Speakers will include Nicholas Chaset, new CEO of Alameda County's East Bay Community Energy, a new community choice aggregation organization that will provide electricity to the county primarily from renewable sources of energy.
Also on the panel will be Greg Rosen, founder and principal of High Noon Advisors, and an energy expert; and Jessica Tovar, an organizer for the East Bay Clean Power Alliance.
For more information, contact [email protected]