City Seeks to Curb Growing Illegal Dumping Crisis
Posted in Community, Oakland Talks Trash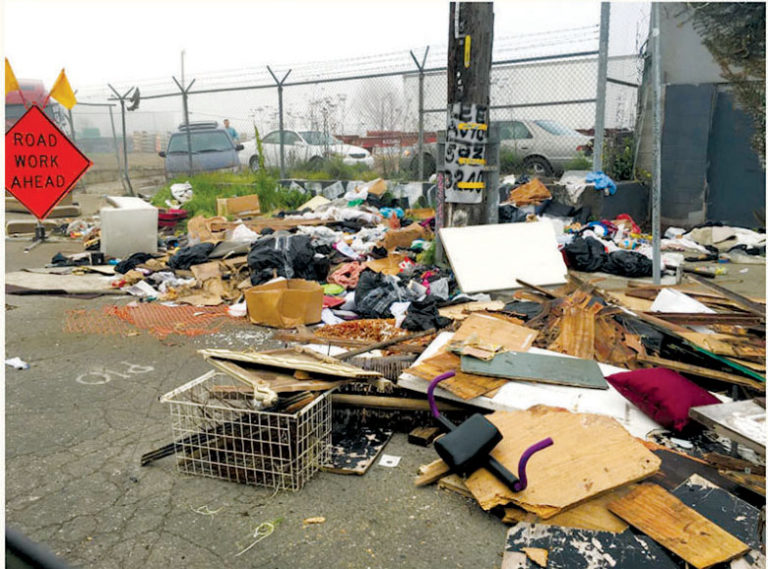 By Ken Epstein
Oakland is facing a public health crisis caused by illegal dumping, which has increased by 100 percent in the past five years. City employees are working seven days a week to respond to growing community complaints.
"This is not just an illegal dumping problem. This is a cleanliness problem," said Councilmember Desley Brooks at last week's Public Works Committee meeting.
"We need to look comprehensively at this," she said. "We've been doing the same thing. I think it's absolutely necessary that we try something different."
"We're starting to have increasing problems with rats," said Councilmember Rebecca Kaplan.
Councilmember Abel Guillén said efforts to stop illegal dumping must be expanded to involve all city departments.
"I think it's an emergency," he said. "There are no consequences right now (for illegal dumping). I can't remember anyone ever being fined."
City work orders for removing illegally dumped trash, based on complaints filed by local residents, grew from 14,083 in 2011-2012 to 29,370 in 2015-2016 – a 100 percent increase in the last five years, including an 18 percent growth in the past year, according to a staff report submitted at last week's Public Works Committee.
"Illegal dumping … is a pox on our community. It is prevalent, and it is ubiquitous across the city," said Susan Kattchee, assistant director of the Department of Facilities & Environment.
A map included in the staff report shows dumping sites in the city stretch from the Berkeley to San Leandro borders, between Highways 880 and 580.
The city's cleanup department, Keep Oakland Clean and Beautiful (KOCB), picks up trash seven days a week, with a commitment of clearing work orders within three business days.
In the last three months, KOCB was able to respond to the work orders within three days at a 93 percent rate, but staff is uncertain that workers can maintain that rate, according to Kattchee.
About 75 new complaints on average are reported to the department each day. Of these, about 30 are handled by Waste Management.
The city pays $5.5 million a year to remove illegal dumping.
In April, the city commissioned a study of illegal dumping piles "to get a greater insight into the roots of the problem," said Kattchee.
The survey examined 75 piles to gain a greater understanding of the sources of the trash, whether residential or commercial, and cities from which they came.
The study found that 55 percent of the piles included residential goods, and 8 percent was construction-related debris.
Only 3 percent of the trash was homeless-related.
"Demonizing the homeless is not going to solve this problem. The data shows that," said Kaplan.
The survey was not very successful in connecting the piles to cities of origin – 63 percent of the piles were of unknown origin. Twenty-nine percent was identified as coming from Oakland.
Ken Houston, a local activist, pointed to the public health threat that illegal dumping poses.
"The street has no rules, so they're dumping things that are hazardous that are being carried into our households – on our children's feet (and) on the wheels of strollers."
Many people have cats, he said. "You can't see what's on that cat's fur."
In addition to responding to complaints, the city has expanded its bulk pickup program for items too large to fit in a trash cart and is planning an educational campaign for residents, utilizing direct mail and social media: Nextdoor, Facebook and YouTube ads.