President of Ecuador Welcomes Richmond Mayor Gayle McLaughlin
Posted in Environment, Equal Rights/Equity, World News
By Ken A. Epstein.
Quito, Ecuador – Richmond Mayor Gayle McLaughlin visited Ecuador this week to meet with President Rafael Correa to make common cause in their ongoing disputes with Chevron, one of the world's six "supermajor" oil companies.
McLaughlin, who has clashed with Chevron over environmental contamination at the company's refinery in Richmond, on Tuesday accompanied President Correa to visit Lagro Agario in the Amazon rainforest, which is one of the zones affected by the company Texaco (now Chevron) during the 1970s through the 1990s.
The Lago Agrio oil field is well known internationally for serious ecological problems that oil development has created there, including water pollution, soil contamination and deforestation.
Since 1993, lawyers representing local residents have sought to force former well operator Texaco and its now parent company Chevron Corporation to clean up the area and to provide for the care of those allegedly affected.
In February 2011, an Ecuadorian court ordered Chevron to pay $18 billion in compensation, a ruling the company called "illegitimate" and vowed to appeal.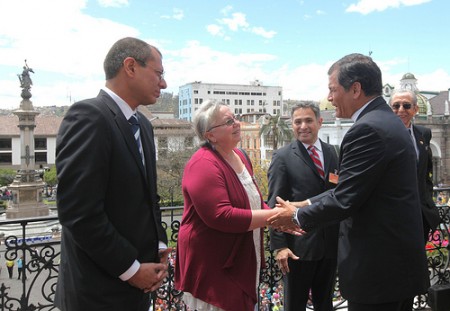 In a press statement released on Tuesday, Chevron criticized Correa's visit to the Amazon as a "media show."
"President Correa has decided to interfere once again in the Chevron case, despite the appeal filed by the company before the National Court of Justice. This time he took the local and international press to sites (in the Amazon) and offered a distorted and inaccurate account of the history of these sites and who is responsible for any environmental impact," the press statement said.