City Puts Big Rigs Back on Streets
Posted in Army Base Jobs, Environment
By Ashley Chambers
As big rig trucks begin to park more and more on city streets, the need remains high for the parking spaces formerly provided by Oakland Maritime Support Services (OMSS) and its owner Bill Aboudi, who is working hard to get his new, cramped 5-acre space on the Port of Oakland's portion of the old Army Base property ready to resume business.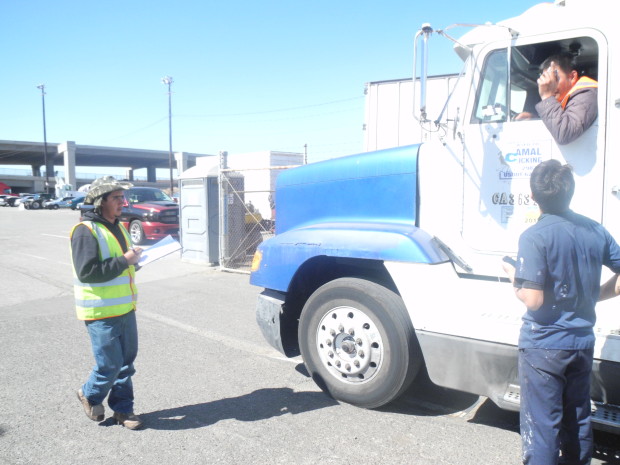 After being locked out of his location on Maritime Street last Friday by the Alameda County Sheriffs Department, acting under orders from the city, Aboudi has been working seven days a week to get his new site on Wake Avenue up and running.
While the site lacked electricity and water when the move began, the port has stepped in to install utilities, which was expected to be completed by Friday.
While Aboudi had no control over when or where he would be able to move, he says he is happy that at least he has a home.
However, downsizing has placed some of his 18 tenants – which include a mini-mart and truck scale and a graphic designer – tied up in the confusing transition as they try to find a space to relocate their businesses.
The move has also delayed some business operations as container parking is already reaching capacity, and tenants such as Horizon Freight owner Miguel Silva try to manage their workload in the reduced space.
Silva says the work has become more difficult in the process.
"The second we lift these off the ground, I hope no one occupies this space," said Silva as he secured a load on one of his flat racks. "It's the layout situation that affects us. It's better than nothing, but it's definitely not adequate."
Silva has already received and transported his first shipment of German-made glass, to be used in the construction of Apple, Inc.'s new headquarters in Cupertino. He expects an increased volume of cargo in coming weeks.
"Anything that disrupts the process of the port results in increased volume for parking. But the people making the decisions don't know about the trucking industry. All they do is make assumptions," Silva said.
Truck mechanics also have been forced to postpone their daily operations until electricity and space is available for them at the new OMSS property. For truckers who travel up to 3 hours or more a day, they could pay an extra $600 to receive service at a dealership rather than with the small business mechanics at OMSS.
"Do you want mechanics on the street dropping oil in the drains and leaving parts in the streets?" Asked Independent trucker Carlos Jordan, who has been working with Aboudi for 23 years.
"We need the mechanics [here]. We can't go to San Jose [to a mechanic], hook up a trailer here to deliver, and then go to Sacramento," he said. "It's a waste of money for us. We're independent, trying to survive, trying to make a living."
With the 24-hour mini-mart and truck scale currently shut down, truckers also say they have waited an hour or more in line to receive service at Port Scales Inc.
The scale company has been experiencing higher volumes of trucks with the OMSS move but is only open until 6 p.m., turning some truckers away each day.
"Most of the time we miss a load almost every day now. The biggest problem right now is the scales," said owner operator Inder Singh.
CCIG, owned by developer Phil Tagami, is occupying Aboudi's old property, and the city have notified truckers of the transition and suggested parking locations at OMSS' new site as well as the AMPCO Trucking Lot – both locations that are full to capacity for truck parking.
The city has repeatedly said that alternative options for truck parking are currently being developed.
Aboudi said, "The demand is here. The city said, we'll figure it out. I haven't seen them figure it out yet."
In an interview with ABC 7 News, Project Developer Phil Tagami said, "We're under agreement to move forward with the (Army Base development) project and we plan to do just that."
The project must start Dec. 31 to claim the $250 million grant from the state. As the developer moves forward, the city's current timeline in addressing the problems created by lack of approved truck parking remains unclear and may extend into winter months.
Mayor Jean Quan did not respond to The Post when asked how the city plans to address the issue of overflow truck parking.