Poll Shows Most Oaklanders Want Oakland A's to Stay at the Coliseum
November 25, 2017
|
Last Updated September 20, 2021
|
|
Affordable Housing, Coliseum City, Community, Economic Development, Education/Schools/Youth, Gentrification, Housing/Foreclosures, Immigrant Rights, labor
Laney "is the worst site you can pick to put a baseball stadium," says Council President Larry Reid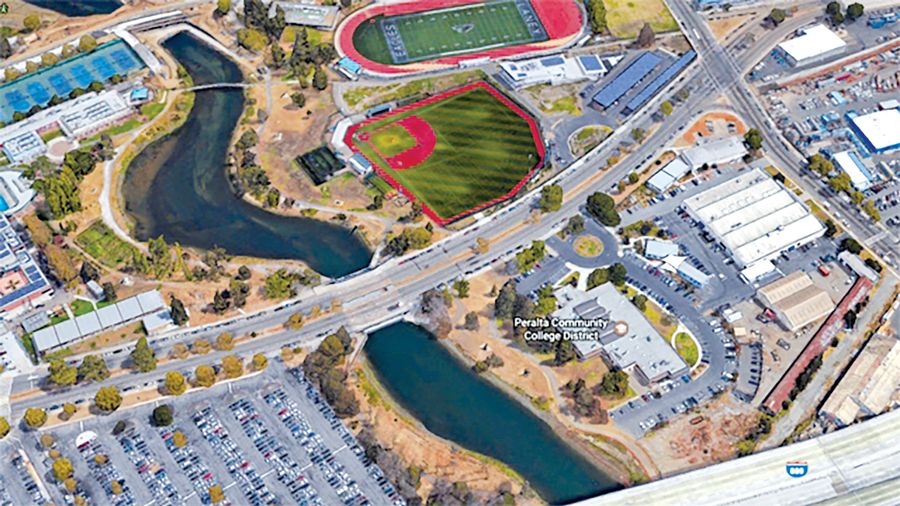 The ballpark would be built at the current site of the Peralta Community College District headquarters, across the street from Laney College.
Oakland Rising, an alliance of nine Oakland grassroots groups, conducted a poll of 2,526 registered voters between Oct. 21 and Nov. 6 to find out where people stand on the Oakland A's proposal to build a stadium at Laney College near Lake Merritt.
Results show that 4 in 5 people living in Oakland want the Oakland A's to stay at the Coliseum and invest in East Oakland, rather than construct a stadium and ballpark village next to Laney College, Chinatown and Eastlake.
"This poll is a true reflection of what Oakland communities want. The people we spoke with oppose constructing a stadium at the Laney site which would inevitably push out and could destroy historic cultural neighborhoods," said Oakland Rising Executive Director Jessamyn Sabbag.
"People also overwhelmingly support keeping the stadium in East Oakland as part of a plan to create safety, stability, and fair economic investment that benefits the Black and Brown working-class and immigrant families who live in the surrounding neighborhoods."
The A's proposal to construct a stadium, tourist businesses, and luxury housing next to Laney College would push people out of the surrounding Eastlake and Chinatown neighborhoods. According to the 2010 Census, 78 percent of Chinatown households are renters. Nearly 90 percent of Chinatown residents are of Asian descent and 45 percent speak a primary language other than English.
"In Chinatown and Eastlake, immigrants and refugees have spent generations building communities where people can thrive. Our friends, churches, doctors, and stores are here. We will not allow the A's owners destroy the sanctuaries we've built," said Alvina
Wong, Oakland Lead Community Organizer at Asian Pacific Environmental Network (APEN).
Oakland Rising's poll included more than four times the number of people than a Metropolitan Chamber of Commerce-commissioned poll, according to the community organization.
The Chamber's poll of 500 Oakland voters found support for the Peralta Community College District site next to Laney College by a 2-1 margin.
Oakland Rising's poll included registered voters with a diversity of voting histories, not just 'likely-voters', a methodology that has historically silenced the voices of working-class people of color who may not vote in every single election.
4 in 5 Oaklanders want the A's to stay at the Coliseum and invest in East Oakland. 2,227 of respondents live in Oakland. 82 percent of people living in Oakland support the A's remaining at the Coliseum, 5 percent are opposed, and 13 percent undecided.
84 percent of African American voters, 80 percent of Asian voters, and 87 percent of Latino voters support the A's staying at the Coliseum rather than constructing a new stadium and ballpark village at Laney.
Young people overwhelming support the A's remaining at the Coliseum. 93 percent of people age 18-24 and 85 percent of people age 25-34 support this position.
Middle class and working-class people responded the A's should stay at the Coliseum and invest in East Oakland. 86 percent of people making less than $50,000 a year, and 81percent of people making $50,000 – $100,000 a year support this position.
Speaking at the City Council's Community and Economic Development (CED) Committee meeting last week, Council President Larry Reid said he has talked to A's President Dave Kaval saying that he hopes the team will stay at the Oakland Coliseum.
"I met with him and said, 'That is the worst site you can pick to put a baseball stadium,'" Reid said. "You need to leave it at the Coliseum where all the transportation infrastructure in the world comes to."