Patricia Williams-Myrick,80, Beloved Oakland Street Academy Principal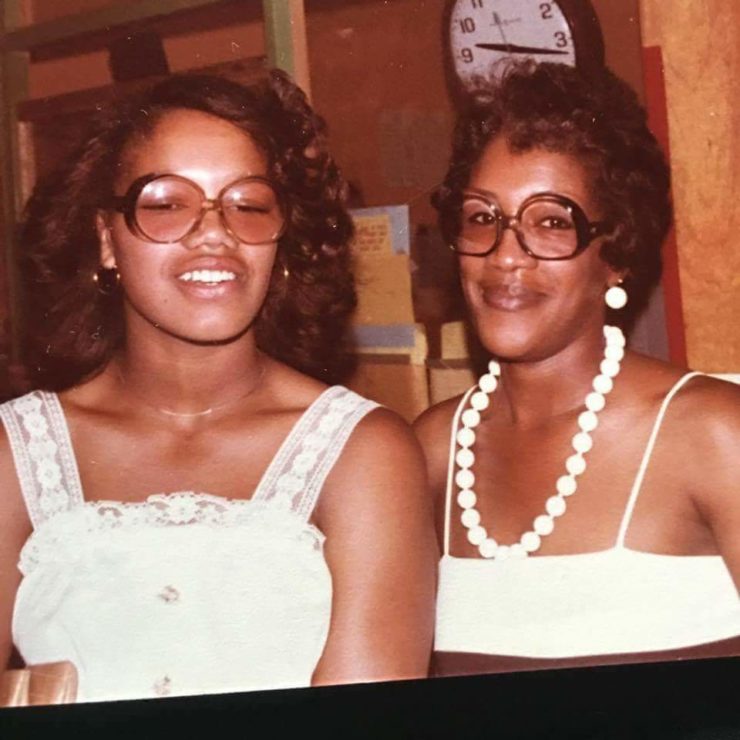 Patricia Williams Myrick (right) and her daughter Kelly Mayes in 1976.By Post Staff
Dozens of family members and hundreds of students mourn the passing of Patricia "Pat" Williams Myrick, who raised generations of young people as the principal of the Oakland Emiliano Zapata Street Academy.
She was also the matriarch of a wonderful family – her daughter Kelly; her three granddaughters – Mechele, Tiani, Genai and four great-granddaughters – Chazae; Chalynn, Avri, and Chazity.
"She made kids want to learn," said Kelly, who spent much of her young life at the Street Academy and speaks with pride of her mother's accomplishments.
Pat, the oldest of nine children, is credited with a remarkable combination of love and determination, which made the Street Academy an oasis of peace for the 40 years that she led it and to the current day.
The school has no security guards, no police and virtually no fights. Because families trusted Pat, she always knew the news, both good and bad, and she could head off problems before they occurred.
She trusted the faculty to create and carry out culturally relevant and rigorous curriculum. The school was one of the first in the country to require an ethnic studies history course, in addition to math and science courses that could lead to college admission for all students.
Gina Hill, the school's current principal, says that Pat was the person she always called for advice in the years after Pat retired. "Not a day goes by that I don't think about Ms. Pat. She is my West Coast auntie who believed and stated often, 'Together we can make a change.' "We need to believe this today more than ever. Ms. Pat loved and led fiercely, and I am proud to stand on her shoulders."
Corrina Gould, a leader of Oakland's Ohlone community, graduated from the Street Academy in 1984 and sent her own children to the school. She talks about Pat's leadership on Facebook:
"She ran a school that was safe, and it didn't matter what 'hood' you rep'd cuz when you were at Street, you were a student, and she would find out stuff about you even if you were messing up on the weekends. She would hold you accountable for your actions. "She never really had to yell; she could talk to you low and quiet and get your attention. She was always dressed to the nine's and kept up her hair and 'those nails'…
"I will miss her laughter and the way she stood up so straight that you felt like she could tower over anyone. She was bigger than life and I love her. I thank our ancestors for allowing us to cross our life paths."
Musician and Street Academy Executive Assistant Bobby Young worked with Pat for 40 years and says of her, "The fact that the Street Academy continues today and is so effective is her legacy."
Toynessa Kennedy, a doctoral student at Mills College, credits Pat with changing her life. "She helped me in high school; she helped me get to college; and she helped me get together with my now husband."
There will a celebration of Pat's life during the Martin Luther King Day week-end and more stories about her in next week's Oakland Post.