Opinion: Rebecca Kaplan Should Run for Mayor of Oakland
Posted in Affordable Housing, Elections & Voting Rights, Elections 2018, Gentrification, Immigrant Rights, Labor, Oakland Job Programs, Rebecca Kaplan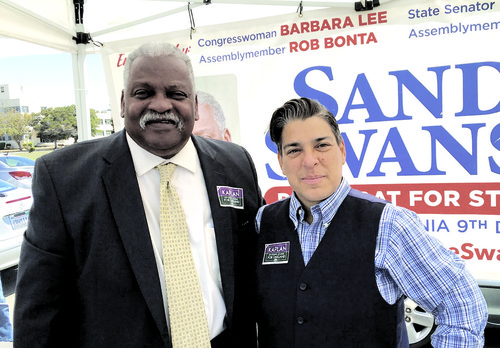 By Sandré R. Swanson I was born in the City of Oakland and I have proudly served Oakland as our Assemblymember for three terms.
I was honored to serve as Oakland's Deputy Mayor, as chair of Oakland's Civil Service Commission and chair of Oakland's Reuse and Redevelopment Commission.
During my service to Oakland, City Councilmember-at-Large Rebecca Kaplan has been consistent in her hard work for the prosperity of all Oakland citizens and her vision of Oakland as one of California's most desirable cities.
Rebecca Kaplan has challenged Oakland government to serve all of its citizens, and now it's time for her to lead the city as Mayor.
I know that as mayor, she would support good paying job opportunities for working families. She will promote affordable housing, long term solutions for assisting homelessness, support schools with a safe and great learning environment for our children, promote small business growth and protect Oakland's environment as a great city by the bay.
Rebecca Kaplan has been promoting and honoring Oakland's beautiful diversity for years, supporting a growing middle class and giving needed attention to our senior citizens and the too often ignored, our poor.
Rebecca will work for real opportunity for our youth from school to work.
When I was growing up in Oakland, my parents and I enjoyed safe parks and Oakland neighborhoods that positively supported family life. Rebecca Kaplan will work for a police force that has the full confidence of the community.
She would work for the recruitment of officers from local residents with a strong commitment to community and the safety of all citizens.
I am encouraging a visionary, Councilwoman-at-Large Rebecca Kaplan, to join the race and give Oakland voters a creative, hard-working, progressive choice for mayor this November.
Sandré R Swanson served in the California Assembly from 2006 to 2012