Activist Cat Brooks Joins Race for Mayor of Oakland
May 4, 2018
|
Last Updated June 25, 2022
|
|
Against White Supremacy, Elections 2018, Equal Rights/Equity, Gentrification, Housing/Foreclosures, Immigrant Rights, labor, Libby Schaaf, Oakland Job Programs, Police Public Safety, Racial profiling, Rebecca Kaplan, Responsive Government, Restorative Justice
Posted in Against White Supremacy, Economic Development, Elections 2018, Equal Rights/Equity, Gentrification, Housing/Foreclosures, Immigrant Rights, Labor, Libby Schaaf, Oakland Job Programs, Police-Public Safety, Racial profiling, Rebecca Kaplan, Responsive Government, Restorative Justice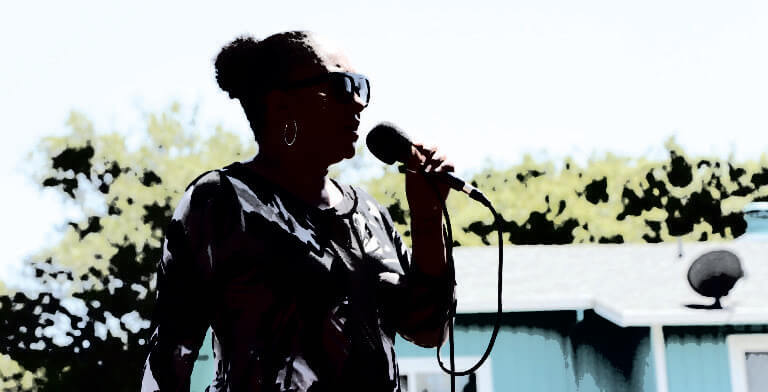 Cat Brooks, co-founder of the Anti Police-Terror Project and now former host of "Upfront" on KPFA, speaks at the ILWU Local 10 May Day rally on May 1, 2018. Earlier that day, Brooks announced live on KPFA that she is now a candidate in the race to become Oakland's next mayor, challenging the re-election of current Mayor Libby Schaaf. Photo by Sarah Carpenter.
By Sarah Carpenter
Cat Brooks, co-founder of the Anti Police-Terror Project, is running for mayor of Oakland.
Brooks was a host of KPFA's "Upfront," until the final 10 minutes of Tuesday morning's show, when she had to take a leave due to her status as a political candidate.
Brian Edwards-Tiekert interviewed Brooks as a guest following the live on-air announcement of her candidacy.
She said she has been asked by many grassroots organizations to run for the office of mayor, and until now she has always said no. "And then I said yes," she told Tiekert.
"Because my life's work is centered on the needs of the people," Brooks said in her prepared remarks on May 1, "I am here to announce—today—on International Workers Day that I am throwing my hat in the ring to challenge neoliberal Libby Schaaf for mayor."
Brooks described her campaign as one that would minimize police spending (currently almost 50 percent of the city's general fund) to pay for community programs, specifically related to the housing crisis. She said her campaign would treat homelessness as "the epidemic that it is."
Councilmember-at-Large Rebecca Kaplan, who has been an active in searching for solutions to the city's housing crisis, responded to the news that Brooks will be in the race for mayor this November,
"I think it's wonderful," she said.
Brooks' May Day announcement coincided with the springtime festival that has since the late 1800s become known as a worldwide celebration of workers' solidarity, International Workers Day.
Brooks spoke at the International Longshore and Warehouse Union (ILWU) May Day rally in DeFremery Park, where renowned actor, director and activist Danny Glover delivered an impromptu speech in support of the longshoreman and their continued social activism.
The ILWU Local 10 shut down all Bay Area ports in 2010 in protest of the killing of Oscar Grant by an Oakland BART police officer. This year, family members of Sahleem Tindle and Stephon Clark, two unarmed young men who were killed by police, attended the ILWU May Day march and rally.
Brooks marched alongside the Tindle family down Adeline St. from the docks to DeFremery Park. She, along with the APTP, has been a leader in organizing to bring about the arrest of BART officer Joseph Mateu, who shot and killed Tindle outside West Oakland BART station in January.