Oakland Post Reporter Ken Epstein Wins John Swett Media Award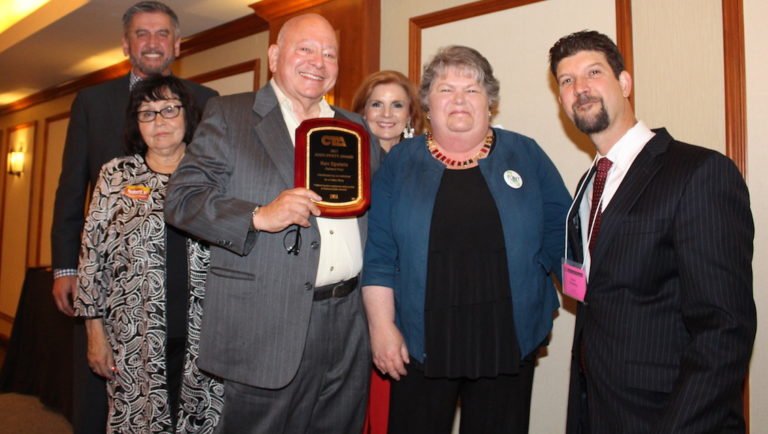 Ken Epstein received the John Swett Award for Media Excellence at a California Teachers Association (CTA) reception Friday in Los Angeles. Show are (l-r): Eric C. Heins, CTA president; Theresa Montaño, CTA vice president; Ken Epstein; Mona Davidson, Communications Committee Chair, CTA; Trish Gorham, Oakland Education Association president; David Goldberg, Secretary-Treasurer, CTA. Photo by Mike Myslinski/CTA.
By Post Staff
Oakland Post reporter and contributing editor Ken Epstein has received the 2018 John Swett Award for Media Excellence for reporting on education issues, an annual statewide competition hosted by the California Teachers Association (CTA).
The award reception, held last Friday in Los Angeles, honored winners who were nominated by local teacher union chapters. The contest was judged by a panel of professional journalists.
Epstein won in the category of weekly and semi-weekly newspapers. This is the third year in the row that he has received the award, nominated by the Oakland Education Association.
He won for his news analysis about how, back in 2003, he says political leaders helped engineer state control of the Oakland Unified School District.
By not allowing the district to use facilities bond money to balance its budget and then repay the money to itself, state and local politicians forced the district to borrow $100 million, which resulted in the state takeover of the district and the loss of local control, according to Epstein's article.
The appointed state administrator was removed in 2009, but impact on Oakland's budget continues, he wrote.
The district still owes the state $40 million, which it is repaying at $6 million a year.
"Our judges praised Ken's story for providing 'historical context to ongoing educational disputes in Oakland' and praised this example of 'smart political reporting,'" according to a statement released by the CTA.