Anti-Coal Activists Ask Big Bank to Cut Ties With Coal Terminal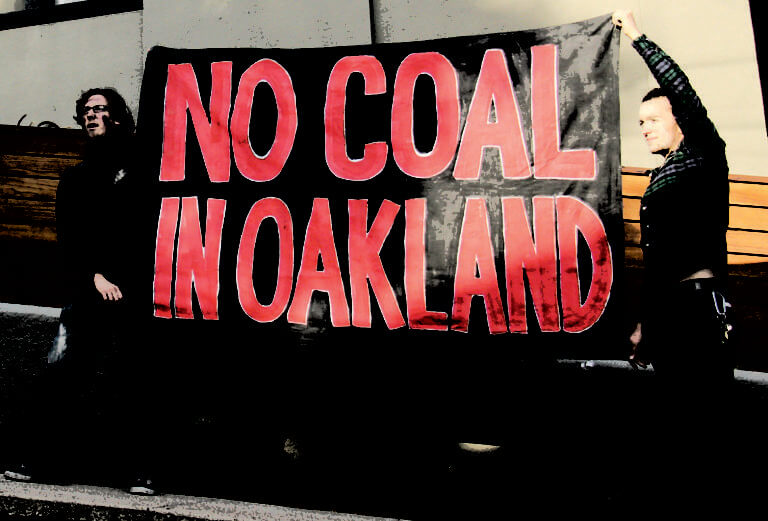 Martin MacKerel (left) and Matthew Gerring protest the Oakland Oversized & Bulk Terminal in front of developer Phil Tagami's Crocker Highlands home during a youth-led "zombie march on coal" on October 30, 2017.
By Sarah Carpenter
Oakland anti-coal activists continue to resist the Oakland Bulk & Oversized Terminal's plan to ship millions of dollars of Utah coal through a West Oakland port.
Developer Phil Tagami successfully sued the City of Oakland, overturning the 2016 ban on coal shipments.
As the City Council and other officials prepare to appeal the federal ruling issued in May, anti-coal activists are looking for other ways to block the terminal.
Jeffrey Holt, an investment banker for Bank of Montreal (BMO), has played a central role in a deal between Bowie Resources and the State of Utah's Community Impact Board.
No Coal in Oakland and the West Oakland Environmental Indicators Project collaborated to send a letter to the Bank of Montreal's chief executive Darryl White.
"The community of West Oakland has not been engaged with as per BMO's commitments an an Equator Bank," said Morgan La Manna, an organizer who helped write and send the letter.
The letter asked BMO to refrain from advising on or arranging financing for the terminal project. The bank is one of 93 financial institutions who have adopted "Equator Principles," for determining, assessing and managing environmental and social risk in investment projects.
Friends of the Earth United States and Canada, 350.org, and Rainforest Action Network supported the letter, which said that Bank of Montreal's role in financing the terminal is at odds with Equator Principles.
"If the Bank of Montreal continues its role in financing the OBOT, it risks several serious breaches of best practice that could damage the reputation of the bank and its officers and may even expose the bank to a variety of unforeseen liabilities," the letter reads.
The second Equator Principle is "Environmental and Social Assessment" which says that financial institutions should examine the environmental and social risks of proposed projects.
Margaret Rossoff, an anti-coal activist, said the bank has yet to respond to their letter, which was sent March 29.
The Post reached out to Bank of Montreal, and is awaiting comment.