Nurses Strike Kaiser, Rally for Global Ebola Awareness Day
Posted in Health, Labor, Uncategorized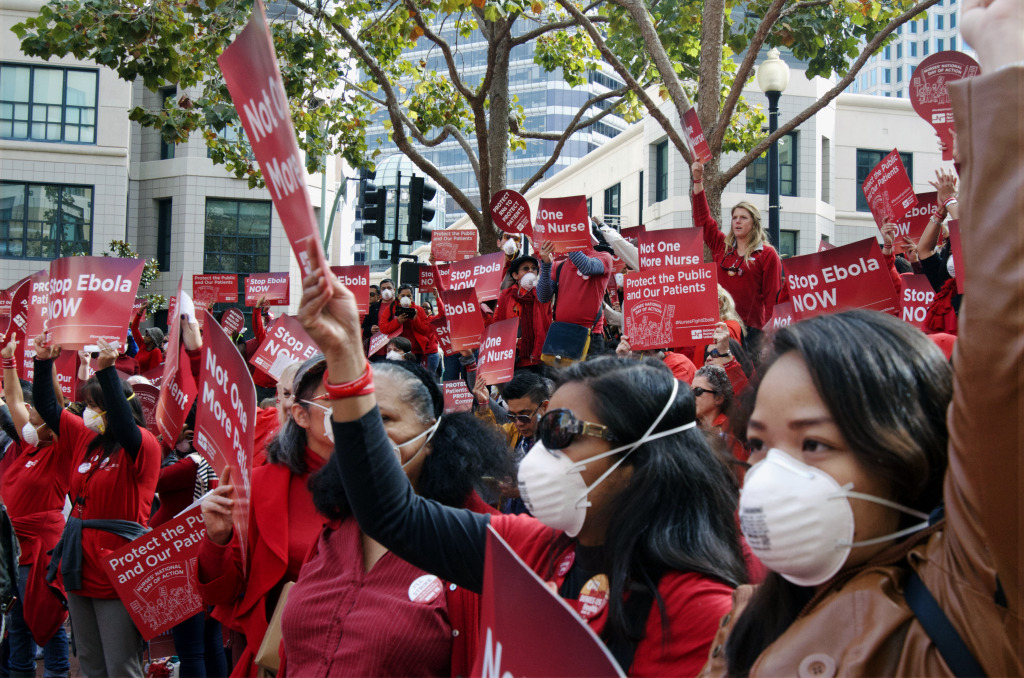 By Nikolas Zelinski
About 18,000 nurses went on strike this week at Kaiser Permanente facilities in northern and central California and rallied at the Ronald V. Dellums federal building in Oakland to demand improved staffing and called on hospitals to take better steps to prepare for Ebola.
The Oakland rally on Wednesday was among strikes and protests that took place in 16 states and Washington, D.C., where nurses held a vigil outside the White House – to join with international actions for Global Ebola Awareness Day.
The centerpiece of the national actions was the California strike against 86 Kaiser facilities in nearly two dozen cities including San Francisco, San Leandro, San Rafael, Stockton and Oakland on Tuesday and Wednesday.
The California Nurses Association and National Nurses United are saying that the CDC is not doing enough to address threats such as Ebola and that hospitals are not prepared to deal with large-scale emergencies.
Even though two nurses in Dallas were infected by an Ebola patient, many hospitals still lack full-body protective suits and sufficient training to deal with potential Ebola cases, said Rose Ann DeMoro, executive director of the California Nurses Association and National Nurses United.
"Nurses, who have been willing to stand by the patients whether it's the flu, whether it's Ebola, whether it's cancer, are now being asked to put themselves in harm's way unprotected, unguarded," DeMoro said at a news conference announcing the actions.
Speakers at the Oakland rally said that "Ebola kits" that are supplied by the CDC, but nurses are only given a choice between slip-on booties, a fluid-resistant gown or an n-95 respirator.
Bonnie Castillo (RN) argued that the supplies simply are not enough. "If nurses aren't protected, the public isn't protected," she said.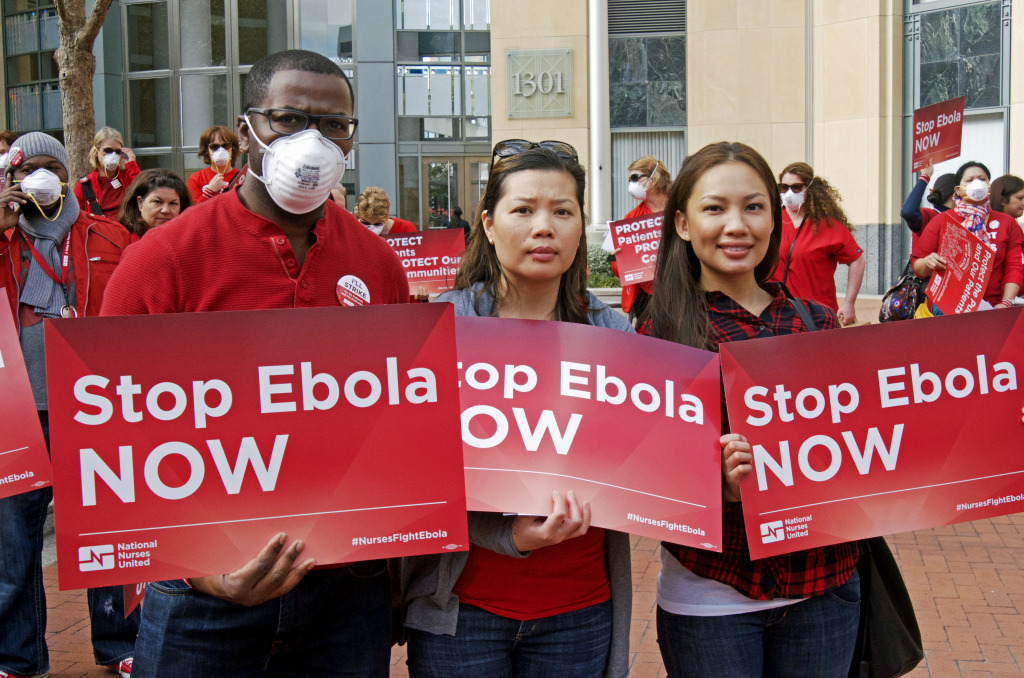 Many of the nurses said a failure to prepare for Ebola and the decline in standards of patient care in the Bay Area and nationwide are the result of for-profit medicine that only looks at the bottom line.
"There are many factors to why we're not ready, and why it's not just about Ebola. This situation just highlights how ill prepared we really are," said Maureen Dugan, a nurse with 25 years of experience, speaking to the Post.
"In today's fractured health care system, it's all about profit…We are constantly struggling to get the staff and supplies we need," she said.
The nurses are calling for the federal government to mandate guidelines for hospitals, such as fully protective HAZMAT suits for potential outbreaks. Also, they say the new guidelines must be enforced by the government so patients and caregivers are better protected.
Responding to the strike, Kaiser Permanente said it is meeting and working with the nurses. "We are absolutely committed to keeping Kaiser Permanente the best place for our nurses to work, and we have assured them of that commitment," according to a prepared statement issued by Kaiser.