"No Coal, No Way," Say Protesters
Posted in Army Base Jobs, Climate change, coal dispute, Economic Development, Environment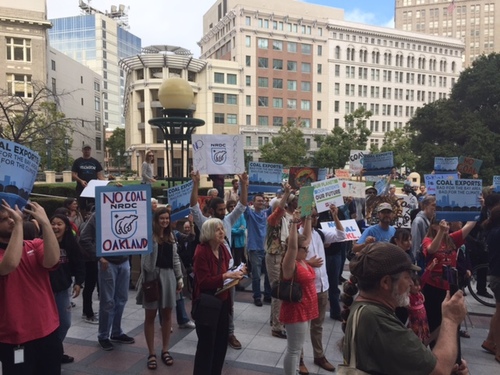 Protesters rally to stop the coal shipments from Utah to the Oakland Army Base, for export to Asia. Photo courtes of Oakland Elects.
By Ashley Chambers
A coalition of environmental groups, concerned residents and local leaders held a rally on the steps of City Hall Tuesday demanding, "No coal in Oakland," opposing a potential project to export the fossil fuel from the Oakland Army Base.
"When City Council Oakland made plans to boost our economy for the public benefit, then public health and safety must be a primary factor in these decisions," said Margaret Gordon, co-founder of West Oakland Environmental Indicators Project (WOEIP), speaking at the protest.
"For all the citizens of Oakland, we hope that our public officials will stand by this policy and put an end to this dirty, backroom deal," she said.
The plan to bring coal to Oakland has become public in the last few months, after Phil Tagami's California Capital Investment Group (CCIG) became involved in a $53 million investment with four Utah counties with the potential of transporting coal by train and exporting up to 5 million tons of the commodity from a terminal at the Oakland Army Base.
Citing dire health and environmental risks to West Oakland and other parts of the city, local environmental groups including the Sierra Club, WOEIP, 350 Bay Area, and Communities for a Better Environment have called for keeping fossil fuels out of Oakland.
Youth added their voices to the protest, talking about the damaging impacts a coal terminal on already overburdened communities.
"Not all of us have the resources to live a healthy life, but exporting this coal in the city is allowing pollution to happen, making it difficult for a future," said Allyson Dinh, 16, with the Summer Climate Justice Leadership Academy, speaking at Tuesday's rally.
"The color of our skin, where we live or how much we make should not dictate if we get to live a long, healthy lifestyle," she said. "I deserve to live better, we all do."
Community members called on the City Council and the mayor to do everything in their power to stop the coal terminal.