Health Dangers of Coal Spark Local Debate
Posted in Climate change, coal dispute, Economic Development, Environment, Health, Labor, Transportation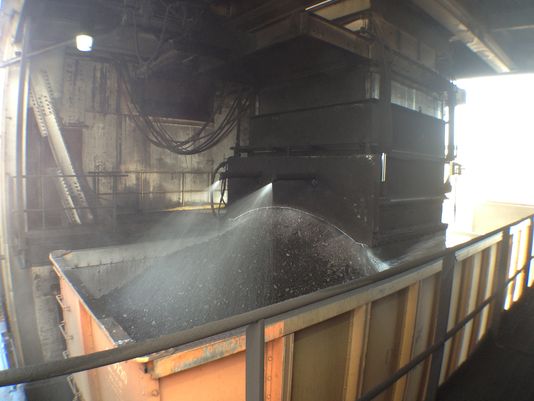 Operators at the Spring Creek Mine near Decker, Mont., apply a topper agent as rail cars are loaded with coal to reduce the amount of dust and coal lost during transportation.Photo courtesy of Jo Dee Black, Great Falls Mont.Tribune.
By Tulio Ospina
As hundreds rallied at Oakland City Hall Tuesday protesting possible coal shipments through the developing Oakland Army Base, health concerns were one of the key issues that people raised.
In particular, the effects of exporting 5 million tons of coal per year on the respiratory health of West Oakland residents—who already suffer from some of the highest asthma rates in Alameda County—have been at the forefront of the debate.
According to experts, Alameda County has the third highest asthma-related hospitalization rates of all California counties and 24 percent of children in West Oakland suffer from asthma.
This health disparity has been mostly attributed to a combination of urban poverty, lack of routine healthcare and diesel pollution caused by constant cargo ship and truck traffic.
Dan Jaffe, professor of atmospheric and environmental chemistry at the University of Washington-Bothell, says that after years of studying the impacts of coal in the atmosphere, he believes there are environmental reasons to be concerned.
Regardless of whether coal dust is ever exposed to California air, the west coast of the U.S. would be contributing to its own air and sea pollution by shipping coal to Asia, where dust, ozone smog and mercury would be carried over on westerly winds.
"Pollutants can be transported in 7 to 10 days at high elevations and then touch down here in the US to contribute to the pollution that we breathe," said Jaffe. "The amount of ozone coming from Asia can cause cities to go beyond their own ozone standards."
Jaffe also claims that the majority of human-produced mercury found in seafood consumed by the United States comes from Asian coal burning.
The Sierra Club, a leader in the anti-coal fight, has taken a strong position on the carbon fuel's health dangers.
"Transporting the coal via rail car to the port will increase train traffic and pollution in an area already overburdened by bad air," according to a press release from the Sierra Club's Bay Area chapter.
"Each open-top rail car of coal can lose up to one ton of dust between the mines and the port, resulting in the release of 60,000 pounds of toxic fine particulate matter in communities near the rails," the press release said.
According to Brian Beveridge, co-director of the West Oakland Environmental Indicators Project (WOEIP), coal dust contains carcinogen and is most likely the cause of black lung and can lead to respiratory ailments such as asthma and lung cancer.
However, supporters of a coal deal claim shipping coal out of Oakland will not harm residents or workers, citing proposals to transport the coal in sealed cars and load cargo ships in ways that limit coal particles being released into the air.
In a statement released Thursday, Oakland Army Base developer Phil Tagami emphasized that no commitment has been made yet to transport any particular commodity through the bulk export terminal.
Tagami said that with whatever commodity shipped through Oakland, all rail transport "will occur utilizing newly designed covered rail cars and other measures to minimize and potentially eliminate fugitive dust issues."
Dr. Washington Burns, executive director of the Prescott-Joseph Center and founder of the mobile asthma clinic, called the Breathmobile, says he is neutral on passing coal through Oakland but supports the export if the promised physical protections are fully implemented.
(To read Phil Tagami's July 23 statement, go to http://postnewsgroup.com/blog/2015/07/23/op-ed-developer-phil-tagami-responds-debate-coal-transport-army-base/)