McClymond High Alumni Meet with OUSD Supt. Antwan Wilson
Posted in Community, Education/Schools/Youth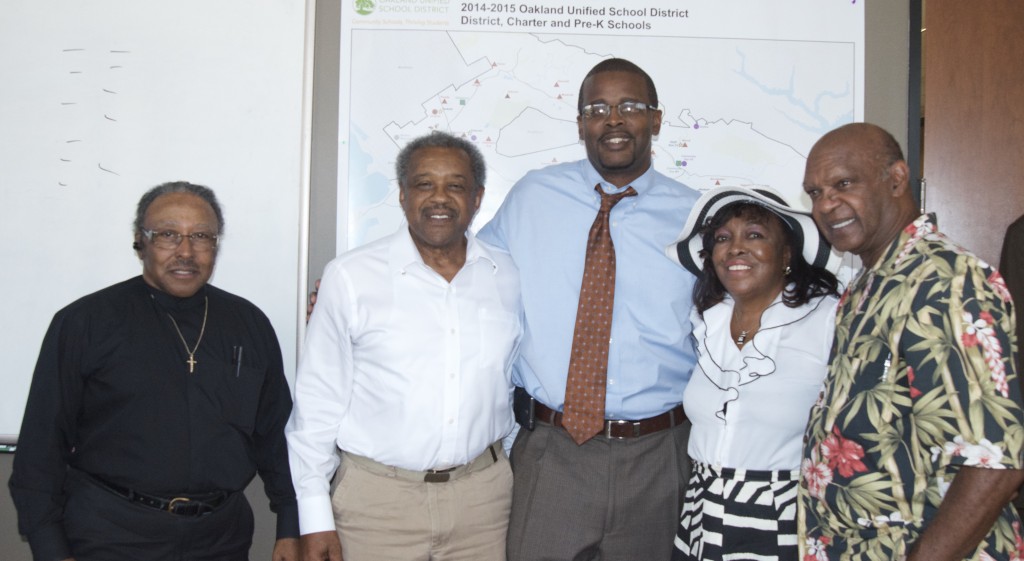 OUSD Supt. Antwan Wilson met with of the McClymonds High School community. (L-R): Deacon Thomas Angelo, Ed.D., Sylvester Hodges, Supt. Wilson, Tina Dright and George Randolph. Photo b Ken Epstein
By Ken Epstein
A group of McClymonds High School alumni, who have advocated for their school for years, met Thursday afternoon with Oakland Unified School District Supt. Antwan Wilson in his office to discuss their concerns and find out what the district's plans are for the future of the school.
"I look forward to10 years from now when future generations" are attending and graduating from the school, Wilson said.
"I have zero intention of closing the school," he said "I've heard that rumor, and it's a lie. I've spent zero time talking about that."
Wilson said the name of the school is not going to change. "There is no school that can match McClylmonds" in terms of achievement, he said.
"And what's unique to McClymonds is the level of multi-generational pride I see."
He said he would continue to push to improve the school curriculum, introducing an "early college" program where students can complete a year of college while still in high school.
He also says he has plans to encourage more families to send their children to the school and is already investing to improve the facility.
The McClymonds alumni representatives who met with Supt. Wilson were Deacon Thomas Angelo, Ed.D., Sylvester Hodges, Trina Dright and George Randolph.
They alumni told the Post they they planned to hold future meeting Supt. Wilson to discuss the implementation of the plans for the school.