Fourth OPD Officer-Involved Shooting Death Since June
Posted in Police-Public Safety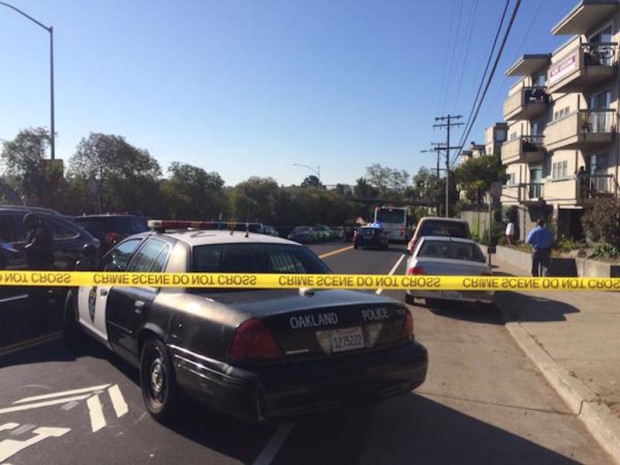 By Tulio Ospina
An Oakland police officer who had responded to a distress call for physical assault on Thursday, Aug. 27 ended up fatally shooting the physical assault suspect after he allegedly attacked her with a metal chain, Oakland police say.
The confrontation took place at around 8:30 a.m. by MacArthur Boulevard and Van Buren Avenue, near Lake Merritt.
According to OPD Chief Sean Whent, the officer was driving away from area when the suspect stepped in front of her police car and prevented her from moving. The officer then got out of her vehicle and the man started swinging the metal chain at her.
She was struck multiple times in the head with the chain before drawing her gun and shooting the man, said Whent.
The officer was taken to the hospital where she was treated for head trauma. The man was reportedly pronounced dead at the scene.
Oakland police are investigating the incident and have yet to determine whether the officer's use of force was justified and say the department has footage of the encounter from the officer's chest camera.
When asked why the officer had not used her Taser instead of her gun, Whent said that using a Taser in this situation would be inconsistent with officer training.
"We instruct our officers to only taze if there is a lethal option as a back-up," said Whent. Because the officer was alone, such support was not available, he said.
At the press conference, OPD spokesperson Johnna Watson said paramedics were immediately called to the scene to treat both the officer and the suspect. But it is still unknown how much time had passed after the shooting until the man was treated.
Nayomi, a witness who spoke alongside Cat Brooks of the Anti Police-Terror Project on KPFA radio, said she arrived on the scene just after the man had been shot. She says she saw a Black man lying facedown on the ground and an officer bleeding from her head nearby who was surrounded by two or three officers.
According to the witness, the man was twitching and visibly alive for several minutes after police arrived and closed off the area. She claims the man was never given medical attention.
"The whole time the man was convulsing and bleeding on the ground. Nobody helped him," she said.
"What we know from witness accounts is that the brother did swing at the officer and that he had no other weapon," said Brooks on the radio program.
It is still unknown whether or not the man had mental health issues, as some community members who knew him have claimed.