Mayor Schaaf Seeks to Unseat Oakland City Council Incumbents
Posted in Army Base Jobs, Elections & Voting Rights, Politics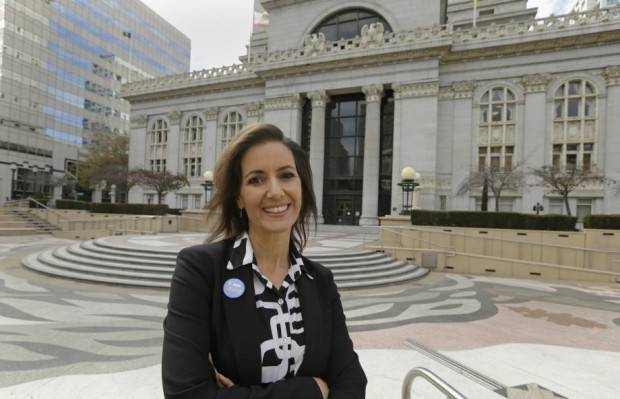 By Ken Epstein
There are indications that Mayor Libby Schaaf may be attempting to remake the city's political landscape by backing more compliant candidates for the City Council and school board.
In at least three local races – the City Council-at-Large and District 5 positions and the School Board
District 5 position – allies of the mayor are seeking to unseat incumbents.
Councilmember-at-large Rebecca Kaplan and Councilmember Noel Gallo recently earned broad community support and have potentially stirred up opposition when they strongly backed measures to establish a Citizens Police Review Commission and renters' protections, both of which the council put on the November ballot.
School Board incumbent Roseann Torres, originally elected four years ago with the support of pro-charter school funders, is now opposed by these donors after she spoke against turning over Fremont High and other Oakland high schools to charter organizations and against Common Enrollment, a district plan to include charter schools in the district's enrollment process.
Kaplan, who is running for reelection for the at-large position, is being challenged by several candidates, including Peggy Moore, who served as campaign manager for Schaaf when she ran for mayor and until recently was Mayor Schaaf's senior special advisor.
Moore resigned from her position in the Mayor's Office on Aug. 12. According to Moore, her campaign manager is Christman Bowers, and her campaign adviser is Ace Smith of SCN consultants, who ran the campaigns of Gov. Jerry Brown and Mayor Schaaf.
Moore told the Post she has the backing of Mayor Schaaf.
According to the SF Chronicle (quoted on the SCN website), "Over the years the consultants at SCN … have quietly become a statewide political machine unto themselves."
A statewide consultant, such as Smith, will not be cheap, and Moore will have to line up major donors.
Sources told the Post several weeks ago that Mayor Schaaf threatened councilmembers, saying that if they opposed the mayor's version of the police commission measure, she would run candidates against them in the coming elections.
Responding, the Mayor's Office said, "This ridiculous assertion is totally false."
In 2014, Shereda Nosakhare, then Councilmember Schaaf's chief of staff, unsuccessfully ran against District 6 Councilmember Desley Brooks.
Viola Gonzales, who is challenging Councilmember Noel Gallo, says that she has the backing of Mayor Schaaf, former Councilmember Ignacio de la Fuente and Former Mayor Elihu Harris.
Gonzales told the Post that the mayor has donated the maximum individual contribution of $700 to Gonzales' campaign.
Gonzales was appointed to the Oakland school board in 2002 by then-Mayor Jerry Brown during a period when the mayor was permitted to appoint several board members.
Mayor Schaaf is also appearing at the campaign kickoff event on Sept. 12 for Huber Trenado, who is running against school board incumbent Board Roseann Torres.
Schaaf is a supporter of Great Oakland (GO) Public Schools, which is connected to local and national financiers of charter school growth, and she participated in GO's fundraiser earlier this year to back campaigns of the organization's school board slate.
Oakland Post Publisher Paul Cobb said that the mayor and Councilmember Annie Campbell Washington are retaliating against the minority press by wanting to minimize any city public notice advertising and legal notices in the Post and El Mundo "because of our paper's extensive coverage of the Grocery Tax issue authored by Campbell-Washington and our repeated demands that the Department of Race and Equity be implemented."
"But we intend to expand our political scrutiny in our upcoming launch of the Metro Post, which will be widely distributed above MacArthur Boulevard," Cobb said. "Schaaf gives lip service to small businesses but no support for Black businesses and jobs for unemployed Oakland residents."