"It Makes No Sense to Sell Public Land," Say Local Residents
Posted in Affordable Housing, Elections 2018, Gentrification, Housing/Foreclosures, Post Salon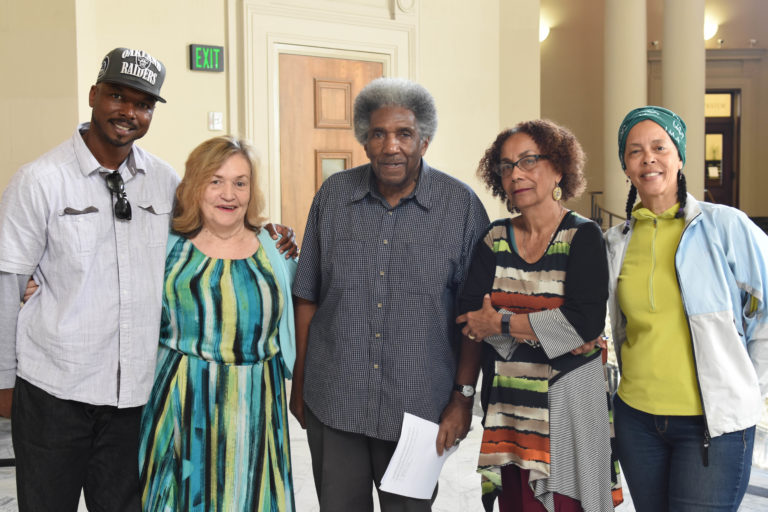 Attending this week's Rules and Legislation Committee to support a moratorium on the sale of public property were ( L to R): John Jones III, Kitty Kelly Epstein, James Vann, Gay Plair Cobb and Cathy Leonard. Photo by Ken Epstein.
By Post Staff
The Oakland Post Community Assembly is asking the City Council to adopt a 90-day moratorium "on the sale of any public land until the council passes a policy that reflects the will of the people of Oakland in regard on how public land should be used and whether it should be sold or leased."
"The only exception to the moratorium would occur if and when a proposal was made to use a piece of land by lease for deeply affordable public housing," according to the proposal submitted to Thursday's meeting of the city's Rules and Legislation Committee by members of the Post Salon Community Assembly.
According to the proposal for the moratorium, which was passed unanimously by the Salon at its April 29 meeting, "These public lands are the most likely way to create genuinely affordable housing, and very, very little affordable housing is being built."
Reports indicate that the city owns 50 parcels that are considered suitable for affordable housing and capable of accommodating over 7,300 new housing units. Yet as of December 2017, Oakland has 20,000 market-rate units under construction and only 1,500 affordable units that are being built.
Kitty Kelly Epstein, speaking for the Post Salon, asked members of the Rules Committee to place the moratorium on the City Council agenda.
"The administration seems to have adopted its own policy to sell property at will to private developers, without transparency," she said,
Until the city adopts a policy, city staff should stop selling the public's property, she said.
"We've been talking about this (issue) for a long time, but in the meantime the city continues to sell public property," said James Vann of the Post Salon.
John Jones III said he was a member of the Citywide Anti Displacement Network, which has been meeting with city staff for a year and a half on a public land policy.
"The desire of the city is to sell all public land at market rate value. This is not an accident – this is really their intention," he said.
In addition, he said, city staff proposes to use 40 percent of the profits from the sale of land for affordable housing.
The Post Salon is working with Councilmember Rebecca Kaplan's staff to write a formal moratorium resolution, which will be submitted to the council within the next few days.