Congress of Neighborhoods Says Mayor's Illegal Dumping Proposal is "Insufficient"
Posted in Community, Elections 2018, Environment, Health, Illegal dumping, Libby Schaaf, Oakland Talks Trash
"The time for partial solutions and unmet promises is over," says community activist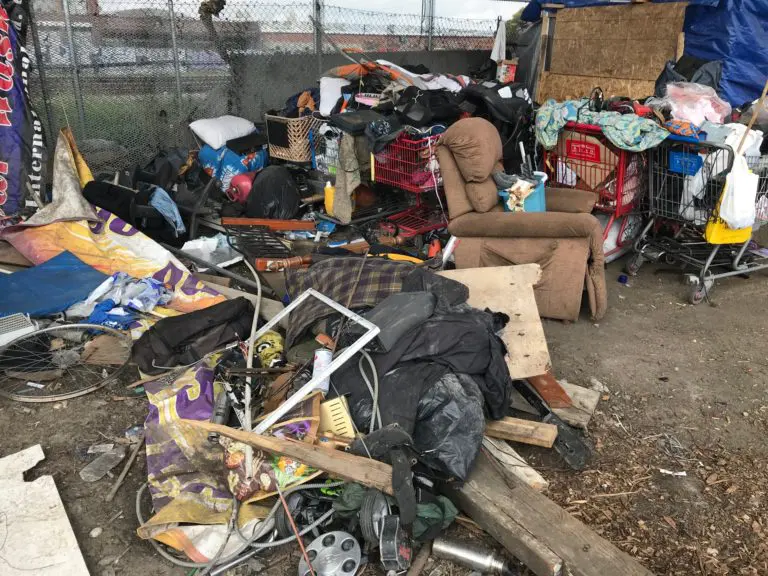 By Post staff
Facing mounting pressure to solve the illegal dumping crisis in flatland neighborhoods, Oakland Mayor Libby Schaaf has announced a proposal that community members say is "insufficient and overly focused on enforcement as a solution."
The East Oakland Congress of Neighborhoods raised the demands April 16 at an angry community meeting of 600 flatland residents, where the mayor and city council members spoke.
"The issue of illegal dumping is an issue of access and equity," says Chris Jackson, Congress leader from District 7. "Equity is everyone getting what they need to thrive. We expect elected leaders to support all of our demands, not the punitive ones they like best."
Congress is demanding comprehensive solutions to what they see as a public health emergency: One new Public Works crew focused on illegal dumping, three litter enforcement officers, better lighting in chronic dumping areas, a zone-based clean-up system focused on the hotspots rather than simply reacting to complaints.
Responding, Mayor Schaaf and District 2 Councilmember Abel Guillén on Thursday announced plans to hire three litter enforcement officers. However, residents are continuing to press the mayor to meet all of the demands.
Councilmembers Desley Brooks, Annie Campbell-Washington, Noel Gallo, Abel Guillén and Rebecca Kaplan have all agreed to find funding for the demands in the mid-cycle budget review process, which occurs in June.
"We pay taxes just like residents in the hills. We want to see the same level of city services here in the flatlands," says Congress leader Evangelina Lara of District 2. "We expect all of our demands to be met in the mid-cycle budget review process, as was promised on April 16. We intend to make sure that city officials fulfill their commitments to the community. The time for partial solutions and unmet promises is over."
"The community's collective work pushing city officials is creating a reaction," says Congress leader Manuel Arias of District 5. "We will continue to organize—our children, elders, parents, all residents deserve better. No one's children should have to walk over garbage to go to school."
In March, the Congress of Neighborhoods held a "trash tour" that began at Mayor Schaaf's home and visited trash hot spots in Oakland flatlands, designed to show elected leaders the difference between how the city takes care of hills and flatland streets.