Hack the Hood Grads Have Much to Offer Tech World
Posted in Economic Development, Education/Schools/Youth, Equal Rights/Equity, Oakland Job Programs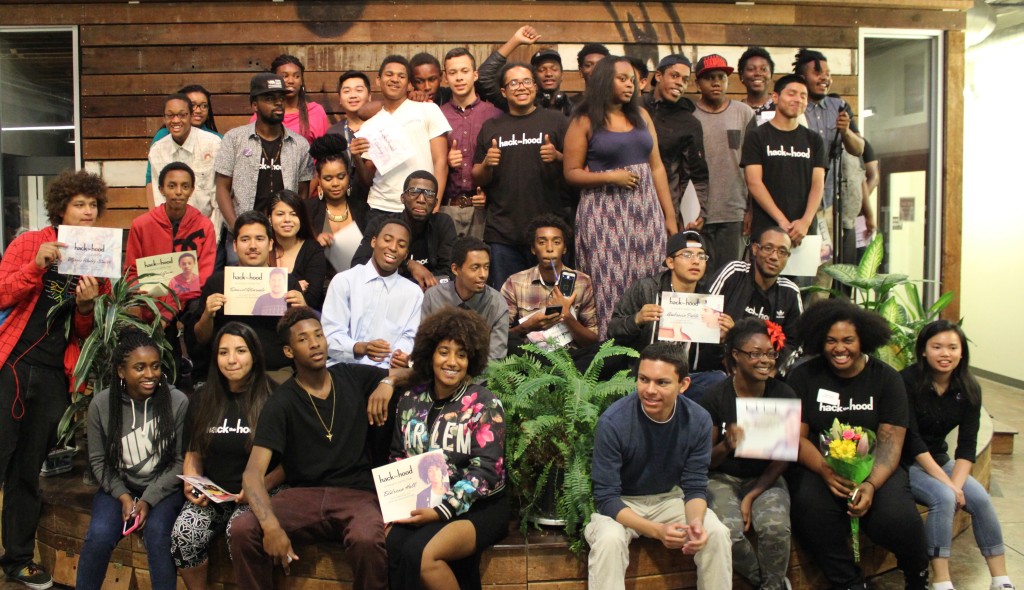 By Ashley Chambers
High school senior Jayshaun Thomas can show just about anyone how to create a website.
"It's easy to teach," he said at the Hack the Hood summer boot camp graduation on Aug. 12 at Impact Hub in Oakland.
Thomas was one of 46 graduates who completed the six-week boot camp, where young people learned coding and web design and gained skills to enter the tech industry.
Since 2013, Hack the Hood has trained low-income young people of color how to design websites for small businesses in their community. Last Wednesday, the largest group of students graduated from the program.
The training not only helped students learn impressive skills but also helped boost their self-confidence.
"I'm learning to better communicate with people," said student Raeshonna Smith.
"The thing that stuck with me was the people here; I could just act myself," said Thomas, who aspires to be a clothing and web designer. "I like doing websites, and going through and actually coming up with my own type of creations. I want people to see what I can create."
Jayla Johnson created a website for local nonprofit, Scientific Adventures for Girls using Weebly, which features a slideshow of young girls experimenting in the company's STEM programs on the site's home page.
Johnson says she was excited to see the results of her hard work. "Hack the Hood showed me how big technology is to everyday life," Johnson said.
And the world is ready for what these young technology innovators will create next.
Stewart Butterfield, CEO and founder of Slack – a messaging app – and Erica Baker, release engineer with Slack, provided valuable advice to the new graduates.
"There are issues unique to your community that haven't been addressed yet…so make or do stuff that you want, and people will come to you," said Butterfield.
Engineer DeVaris Brown encouraged students to "be an example of excellence."
"Be proud of your diversity," said Brown, who has spoken around the world about technology being accessible to everyone. "Be an example for your peers in your community."
One student, Norma, who is an immigrant, courageously shared her story of overcoming her personal obstacles.
She said her Hack the Hood instructor, Damon Packwood, helped her look beyond the barriers against her and explore the opportunities. "Who knows, I could be an expert at coding," she said.
Hack the Hood co-founders Susan Mernit and Zakiya Harris look forward to expanding the program this fall with a pilot project at MetWest High School.
For more information, visit www.hackthehood.org.
Photo caption: Hack the Hood graduated its largest group of 46 students from the 2015 Summer Boot Camp on Wednesday, Aug. 12 at Impact Hub in Oakland. 2015 graduates were: Ben Ampon, Adrian Anderson, Quentin Booker, Reetah Boyce, Kevin Butler, LeAnn Chingcuangco, Ashton Ealy, Charles Killian, Alpha-Oumar Cisse, Myles McConico, Qadir Muhammad, Ambrocio Pablo, Ishmael Rico, Joshua Solorzano, Raeshonna Smith, Elias Ramirez, Daniel Alvarado, Ishmael Bayley, Chadwick Butler, Nathan Craner, Renee Creer, Basheer Dalil, Ty Delaney, Abel Gaim, Daniel Gaim, Rose Hamilton, Rachel Harper, Sennua Hunter, Kevin Mills, Eric Nobles, Milan Perkins, Cary Proctor, Norma Soto, Jayshaun Thomas, Marcello Thompson, Ulysses Waddy-Smith, Vanson Le, Eddrena Hall, Jayla Johnson, Vu Le, Taylor Noel, Dulce Palacios, Abel Regalado, and Xaria Thompson. Photo by Ashley Chambers.