Face-to-Face with Music History Maker Barry Gordy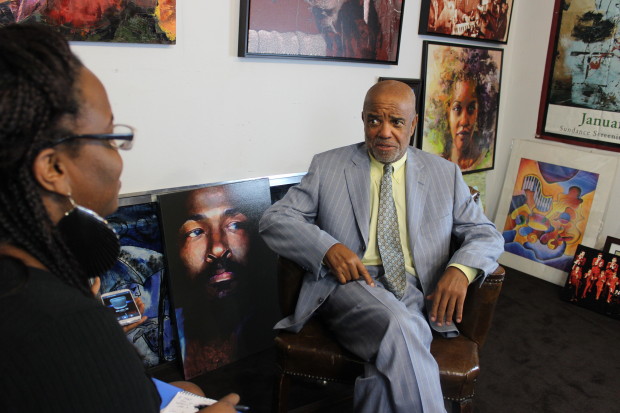 Post reporter Tasion Kwamilele interviews Berry Gordon. Photo by Ashley Chambers.
By Tasion Kwamilele
We're talking about history. What that means is as clear as it comes when we look at the legacy of Motown founder Barry Gordy.
Gordy was in Oakland Monday to celebrate Berry Gordy Day in front of City Hall, an event organized by Alameda County Supervisor Keith Carson.
From Diana Ross and Stevie Wonder to Marvin Gaye and Michael Jackson, Gordy has produced and worked with some of the world's greatest artists who created a body of work that changed the course of global culture.
"We at Motown did music out of love," said Gordy, 84, reflecting on Motown's musical history. "Artists were taught to love what you do, writers were taught to love what you write (and) write what you feel."
And they did just that, sometimes bringing a difference of opinions, but Gordy said it never got in the way of the love.
In an exclusive interview with the Post, he reflected on the time he spent with Marvin Gaye and how they fought all the time about concepts. At one point, the singer was determined to do a protest album.
"He wanted to be an activist, and I wanted him to be a love song singer," said Gordy.
But Gordy didn't get in the way, and Gaye's album, "What's Going On," became one of Motown's most successful projects. It rang true to the issues that were important to people at the time.
The song came from Marin Gaye's is heart "and was beautifully written," said Gordy. "If you do it just to make money or write songs just to make money, it never really, really works."
Gordy said he didn't like the song "Cloud 9" by The Temptations because it came across as a "drug record." But he was outvoted, and though he had the power to veto it, he didn't.
That song later gave Motown its first Grammy.
Such stories are captured and reflected in the exhibit, Motown Legends: Artwork by Chris Clark, featured at the Joyce Gordon Art Gallery and at Everett and Jones BBQ in downtown Oakland until Nov. 30.
Clark travelled with Gordy and most of the Motown artists, capturing and sketching intimate moments of Stevie Wonder, Michael Jackson, The Temptations and others.
Gordy called Clark a humble artist. However, he considered her thoughts to be always different and above everyone else's because of the time she spent with them.
Gordy pointed out a photograph of young Michael Jackson asleep, possibly dreaming, and surrounded by later pictures of him in the prime of his career.
"It's almost too deep for people to even realize," said Gordy, noting Jackson's success began with just a dream. "Michael wanted to be what he became."