Eviction in Effect for Army Base Businesses; Big Rigs Parking on City Streets
We're asking them to take [their truck], move it and park it somewhere else, " John Monetta, City of Oakland
By Ashley Chambers
The eviction notice served by the Alameda County Sheriffs Department to Bill Aboudi's Oakland Maritime Support Services (OMSS) took effect Friday, Sept. 13 as sheriffs were scheduled to lock him out, giving Aboudi and his tenants 18 days to get their possessions off the property.
However, as Aboudi continues the moving process to his new site, leased from the city, he is working with the Port of Oakland to have utilities and electricity installed.
Normally he would need 60 days to downsize and move his business to the new location, says Aboudi, who has less than a week to figure out his next step, what he considers an unrealistic timeline for anyone in this position.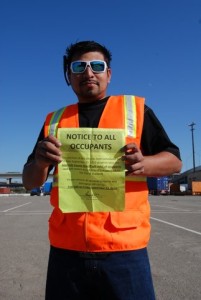 The city's energies are being expended on moving forward with its massive Oakland Army Base Development project, leaving much uncertainty as to how OMSS will be able to resume business at the new 5-acre property and how the city intends to fulfill demand for truck parking, keeping the big rigs forced to find space on neighborhood streets.
Many observers say the city's timeline for evicting OMSS and its tenants is impractical to say the least. The notice of exact site boundaries for the 5 acres was not specified until Thursday, the day before Aboudi was scheduled to be locked out.
"We're moving as quickly as possible, but we still have some hurdles we have to overcome," said Aboudi. "We need some special help."
Aboudi says the threat of having to be locked out of his own business is haunting independent truck drivers who use his services and 18 tenants that employ 250 people.
The port is currently working to expedite the process of providing electricity and other utilities for the new site, which they say could take a week to complete. In the meantime, Aboudi will have to pay for generators and portable water trucks as a contractor works on installation.
"We want to be assured that at least we're moving and that the city will not pull the trigger after we've been working to move forward," Aboudi said at the city's Community Economic Development meeting Tuesday.
City Administrator Fred Blackwell, Councilmember Lynette Gibson-McElhaney, and John Monetta – project manager in the city's Real Estate Services Division – all were praised at the meeting for their efforts to resolve these issues as the Army Base Project moves forward.
According to McElhaney, the lock out is still under negotiation, but sheriffs do have the authority to close the doors on OMSS.
"We're working on a solution to delay the order to lock out," she said.
City staff is also still looking at options to address the anticipated overflow of truck parking but have no answers.
The port is supportive of the city's efforts to address this, said Mark Erickson, Senior Maritime Projects Administrator for the Port of Oakland.
At this point, seven out of 10 trucks that use OMSS space for parking have nowhere to go.
Parking somewhere else could mean parking along Wood Street and residential neighborhoods in West Oakland, putting the local community at higher risk, according to concerned community members.
"We're asking them to take [their truck], move it and park it somewhere else," said Monetta.
McElhaney has also raised concerns that locking truckers out would limit access to their tools and interfere with their business. "We are in no way looking to deny somebody their livelihood," said Monetta.
It is also uncertain where the Customs Examination Station (CES) will relocate. One possible location is at a warehouse in West Oakland near Raimondi Park, adding to more truck traffic.
"This is a poor place to be putting Customs. We have worked hard to keep these trucks out of the community," said Margaret Gordon. "The city needs to take this to the health and safety committee and see what are the risk factors."
At press time, Mayor Jean Quan did not respond to the Post about truck parking or the future of small businesses that are being displaced by the Army Base development.
"We've been trying to work through this but the city is not to be trusted. They're not taking into consideration anybody's livelihood," Aboudi said.
A Wood Street resident said, "The developer promised us that he would preserve and create jobs, but now it seems his story has changed."
"They're destroying a lot of small businesses right now. A third world country would give us better support than they're doing," Aboudi said.