Councilmembers Delay Vote on Proposal for Construction Job Opportunities for Oaklanders
April 29, 2018
|
Last Updated December 29, 2021
|
|
Affordable Housing, Against White Supremacy, Community, Desley Brooks, Elections 2018, Equal Rights/Equity, Gentrification, Housing/Foreclosures, labor, Oakland Job Programs, Reentry/Formerly Incarcerated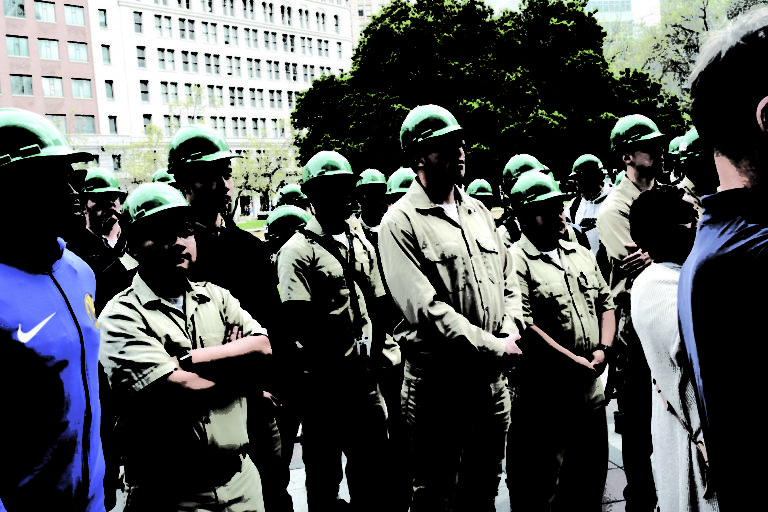 Pre-apprenticeship building trades trainees from the Cypress Mandela Training Center, which was founded by the Oakland Private Industry Council, joined a rally recently in front of City Hall asking City Council members to fund programs like theirs and others that prepare people for well paying jobs in construction. Photo by Ken Epstein.
By Ken Epstein
Forty-six people signed up to speak at this week's Community and Economic Development (CED) committee meeting, almost all of them arguing in favor of Councilmember Desley Brooks' proposal to utilize city funds to support pre-apprentice training programs for construction workers and career centers that provide opportunities for low-income residents of East and West Oakland.
Despite the passion and enthusiasm of the speakers – community leaders, young job trainees, program staff, labor representatives and the formerly incarcerated – they were disappointed to learn that council members were not going to vote on the proposal but were postponing it until the May 22 CED committee meeting.
According to council members, they could not vote on the matter Tuesday because staff reports analyzing the proposal had not yet been submitted by the City Attorney's office and the city administration, even though the issue had been discussed during last year's budget deliberations, and Brooks had submitted her proposal over five months ago.
The matter was also on the CED agenda two weeks ago but was not be discussed because it lacked a cover memo.
This, week, City Attorney Barbara Parker sent a "confidential" opinion to the council but has not issued a public opinion on the proposal, according to council members.
Councilmember Noel Gallo, who co-sponsored Brooks' resolution, said Parker's opinion contains "legal recommendations" but "doesn't close the door on us."
Speaking to members of the CED committee, Councilmember Brooks said, "There is a crisis in this city, a crisis in terms of putting people to work, and we'd rather play games and look smug than carry out the business of the people."
Though criticisms have been raised about how the measure would be funded, Brooks said she had patterned her proposal after the Percent for the Arts ordinance, which has utilized bond money to generate millions of dollars for public arts programs.
"I don't know why the City Attorney is having difficulty figuring out if it is legal since we have been using the Percent for the Arts ordinance since 1989," she said.
She pointed to the page on the city's website, which talks about "exciting Public Art projects funded through local bonds and state grants (that) are underway throughout Oakland."
According the web page, the money for public arts comes from "Measure DD: Lake Merritt – Estuary Channel, Lake Merritt Garden Gates, Lakeside Green Streets, Estuary Park," "Measure WW: DeFremery Park," and "Measure KK: Coming soon."
"What we're asking for right now that is that you think that the Black and Brown people of this city are important, that you think that it is important that they see a 15 percent decline in unemployment, that you see that it is important that they be able to continue to live in this city, that you think it is important that they be able to support their families," Brooks said.
Brooks says her ordinance has a clause that excludes any funding proposal that cannot be utilized legally, and she challenged councilmembers to come up with their own ideas for funding job training if they do not like the ones she proposed.
"We are playing around trying to find reasons why we can't do something, and none of you have come up with a proposal to figure out what we can do. What have you come up with? What are you doing to rectify this issue that is moving our residents out of this city."
Many of the community speakers underscored the importance of the proposal, which would provide city support for the Cypress Mandela Training Center, the Men of Valor Academy, East and West Oakland Career Centers and other programs.
Richard de Jauregui, director of Planning for the Oakland Private Industry Council (PIC), said the city has been relying on federal dollars to supports its workforce development programs for the past 18 years but now has to figure out how to fund these programs itself.
"Federal funds are dwindling. They are talking about cutting as much as 40 percent under the current administration," he said.
Sylvester Hodges, director of training at Cypress Mandela Training Center, urged council members to be creative.
"If this isn't the source of money that you want to give… (you can) come up with ways you can help the people in the community."
Speaking to Councilmember Campbell Washington, who has announced she is not running for reelection, Hodges said, "You don't have to quit because we disagree with you. Don't do that. We just want you to think and work together and compromise."
Councilmember-at-Large Rebecca Kaplan told council members, "I'd like to encourage us to imagine what would happen if we all decided to all be 'all in' on figuring out how to make sure the job training gets funded."
"Understand why it matters," she continued. "We have construction projects that can't get built because they can't get workers. We have a Black unemployment rate that is so much higher than the white unemployment rate that it would be considered a national crisis if white unemployment was at that level."
Men of Valor Academy director Pastor Jerald K. Simpkins said, "This city has spent hundreds of millions of dollars, and all we ask is for a seed to go into some of the communities that rarely receive those kinds of investments. Sow a seed, and you'll reap a harvest."
Gregory McConnell, who frequently represents developers, also supported the proposal. "I don't know if there are technical difficulties … but (I know) these programs are transforming lives."
The three speakers opposed the proposal because they were against spending infrastructure bond funds, Measure KK, for pre-apprenticeship training. But they did not say if they would support the resolution if funding came from other sources. One woman suggested trainees raise money for their programs with a GoFundMe campaign.
Campbell Washington, who chaired the CED meeting, said the resolution would come back to the committee May 22 "either with the City Attorney's analysis that we received confidentially, or whatever that can be put out to the public, and a city staff analysis."
Councilmember Gallo praised Councilmember Brooks for taking the initiative on job training.
"I really applaud you, and I value what you're doing," he said. "For me employment and training are extremely important."
Gallo said that a proposal to fund the Cypress Mandela Training Center was discussed when the budget was adopted last year, but "it didn't happen because we didn't have the majority of the votes."
"The opportunity is here," Gallo continued. "We did receive a communication from the City Attorney with some changes they are recommending in terms of how we may be able to get to the funding level to support training programs that we have and future training programs."
He suggested council members give the City Administrator a directive to come back to the council with proposals on how to fund job training in Oakland.