Community Action Needed Against Illegal Dumping and Litter
Posted in Desley Brooks, Elections 2018, Illegal dumping, Responsive Government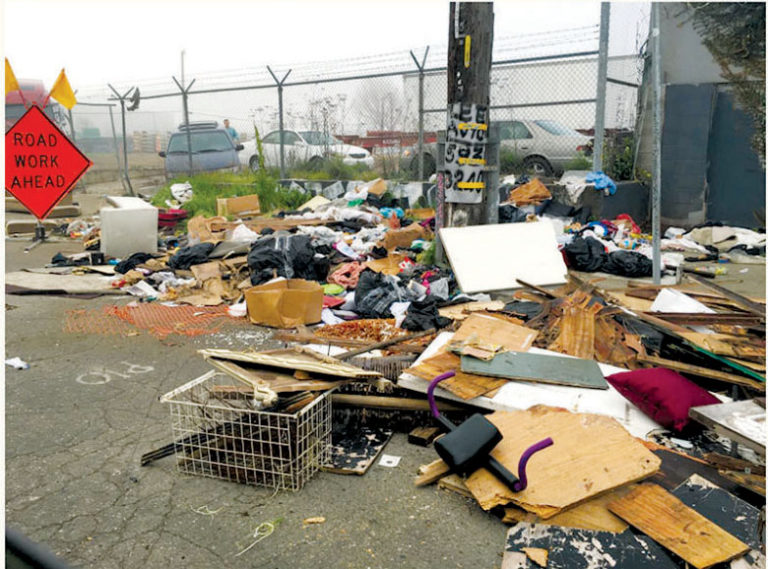 By Desley Brooks
Litter has become a major problem in Oakland. Throughout the city you see the devastating effects of illegally abandoned construction waste and garbage. It blights our streets and parks, impacts our health and safety, and is a disgrace to everyone who calls Oakland home.
Despite my advocacy and the work of many volunteers, our city services still don't have the capacity to meet this challenge. Between 2011 and 2016, calls to report illegal dumping increased 129 percent. The old, complaint-driven model is inadequate. We are reaching crisis levels, and something needs to be done.
Last week we finished the budget process. One victory was the City Council voted to increase funding to fight illegal dumping, including:
$85,000 for a pilot program that will employ unsheltered individuals to help clean our streets;
$1 million dedicated to sanitation, health, and hygiene services;
$452,415 for three litter enforcement officers.
In total, approximately $1.4 million will be spent to fight illegal dumping. While this is a good start, it's not enough.
In my district, I spearheaded an innovative pilot program to address illegal dumping. Instead of following the typical complaint-driven process, we organized a rapid response team that proactively removed litter from wherever they found it in their designated zone.
This program made a visible difference while it was active, and now that it has ended we can see the problem getting worse again. This pilot program was effective and cost-efficient, collecting more waste per man-hour than regular garbage trucks.
I asked the administration what it would take to ramp up this program and make it citywide – they estimated it would cost $3 million. After seeing how effective this program was in my district, I know what a huge impact this program could have on our city.
I was gratified that the Council voted to fund a partial expansion of the program – but one three-person crew just isn't enough. I'm in this for the long term and want to deliver long term solutions.
This problem affects everyone in Oakland, and it's going to take broad support to make change. Oaklanders deserve clean streets. Oaklanders deserve to take pride in their neighborhoods.
Oaklanders deserve a city that responds to their needs. I will continue to advocate for a proactive, geographic program to address the crisis because I believe that it's the best option we have to tackle the problem.
I will keep leading monthly cleanups in my district and encourage everyone to take part in a community cleanup in your neighborhood. Together we can keep Oakland the beautiful place that we know it deserves to be.
There are many ways you can help:
Organize or join a community cleanup; "Adopt a Spot" or set up a free bulky drop off event;
Report illegal dumping by calling 311.
If you are concerned about this problem and want to get involved, please email me at [email protected] or you can call my office at (510) 238-7006.
Desley Brooks is the District 6 representative on the Oakland City Council.