Black Students Demand School District Take Steps to Reduce Racism at Berkeley High
Posted in Berkeley, Education/Schools/Youth, Equal Rights/Equity, Ferguson/Black Lives Matter, Labor, Racial profiling
By Ken Epstein
In the wake of a racist, violent threat and a one-day walkout by most of the student body at Berkeley High School (BHS), the school's Black Student Union is demanding that the school board and district administration act immediately to reduce the level of racism on campus, create a safe place at the school for African American students and enhance the teaching of African American studies.
The demands were presented to the board and Supt. Donald Evans at the Dec. 9 board meeting by Black Student Union (BSU) Co-Presidents Nebeyat Zekaryas and Alecia Harger.
Zekaryas told the board that the BSU is raising its demands "in light of the terroristic messages left on a Berkeley High computer on Nov. 4, 2015 and in light of the continued instances of systemic and interpersonal racism that plague our school."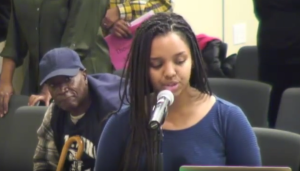 "We demand that history curriculum in grades K through 12 be amended to include Black history and an accurate view of colonialism … African history up to the present day, the history of the Black people in the Americas, including but not limited to enslavement, the civil rights movement and historically significant Black people outside of equality movements," said Zekaryas.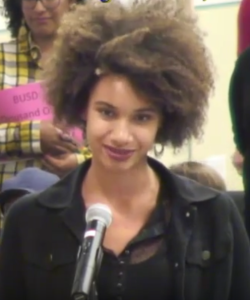 "Black history (should) be taught as an important and relevant piece of world history rather than its own independent subject that is relegated to a semester of ethnic studies," she said.
"It is insulting to condense all history of nonwhite people into an ethnic studies class," she said. "It is essential that Black students are educated on this history in its entirety – Black students should not be expected to excel in an institution that gives us knowledge where we can only see our ancestors as slaves."
The BSU is also demanding full funding for the Berkeley High's African American Studies Department. "This funding (should) allow for the continuation and betterment of all currently running programs," Zekaryas said.
BSU Co-President Harger told the board the BSU is demanding that the district create and fund a Black Resource Center on campus.
The Black Resource Center would be a location where Black students can congregate and (find) support for any issue that we may face," said Harger.
"This center would become a permanent school fixture until Black students regularly have the same test scores and are graduating at the same rate as white students," she said.
The BSU wants Berkeley Unified to create a committee to recruit and retain Black staff throughout the district.
"We demand that this committee include representatives of Berkeley elementary, middle and high schools, along with members of the Berkeley High BSU," said Harger.
The BSU also wants the district to institute comprehensive racial sensitivity training for all Berkeley High faculty and staff, she said. "(The) training (should) be ongoing and not be limited to a single professional development day."
"Black students cannot be expected to feel safe in our classrooms or on our campus if Berkeley High School staff is not equipped to discuss or handle issues of racism or racial bias." said Harger.
The BSU wants the district administration to begin implementing the demands within the next three to six months and to receive an official response from Supt. Evans no later than Dec. 16.