Bay Area Protests Against White Supremacy, in Solidarity with Charlottesville
Posted in Against White Supremacy, Community, Equal Rights/Equity, Ferguson/Black Lives Matter, Police-Public Safety, Racial profiling, Responsive Government
Rep. Barbara Lee calls on president to remove bigoted White House aides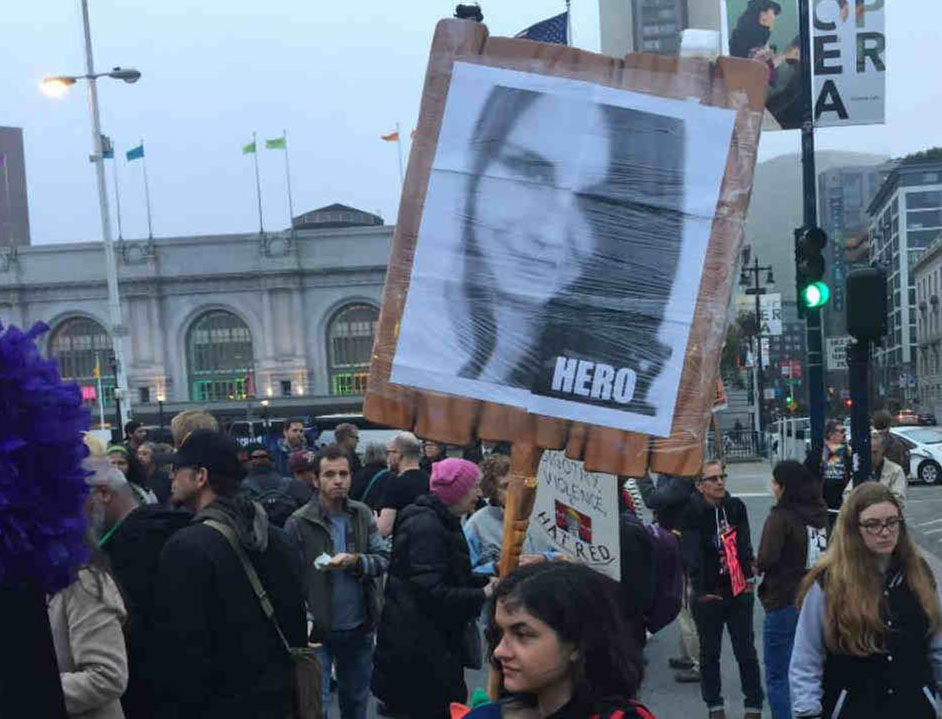 By Post Staff
Protests last took place across the Bay Area over the weekend in response to the killing of an anti-racist protester in Charlottesville, Virginia, part of a nationwide upsurge of anger against the resurgence of white supremacists and Nazis and President Trump´s support for bigotry.
Protests were held Saturday and Sunday in Oakland. The Saturday march was called, "Charlottesville We Got Your Back, Bay Area United Against White Supremacy." Among the signs marchers carried were ones that read, "White Silence Equals Violence" and "Call it what it is. White supremacy."
Oakland's Sunday evening protest was held in front of City Hall, "for unity and (to make) a firm stance against white supremacy, anti-Semitism, racism and hate," according to a Facebook calendar page.
A march was also held in Berkeley, and candlelight vigils were scheduled at City Hall in San Francisco, the Contra Costa County Courthouse in Martinez, Adobe Park in Castro Valley and Poinsett Park in El Cerrito.
In the South Bay, protests were scheduled Sunday at San Jose City Hall, Mountain View's Gateway Park, at Lake Elizabeth in Fremont, at the Morgan Hill Community & Cultural Center and at the Santa Cruz Clock Tower.
Congresswoman Barbara Lee, along with the "Quad Caucus," sent a letter this week to President Trump demanding he immediately remove white supremacists Steve Bannon, Sebastian Gorka and Stephen Miller from the White House.
Issuing the statement were Congresswoman Lee and leadership of the Congressional Quad-Caucus, composed of chairs of the Congressional Black Caucus (CBC), the Congressional Asian Pacific American Caucus (CAPAC), the Congressional Hispanic Caucus (CHC) and the Congressional Progressive Caucus (CPC).
"The white supremacists who descended upon Charlottesville have brought vile racism, hatred and bigotry to the forefront of our political discourse once again," said Congresswoman Lee. "We cannot address the dangerous spread of white supremacy in America without honestly examining its influence on the Oval Office.
"President Trump has elevated hate and discrimination to the highest levels of our government. From the Muslim Ban, to raids on immigrant communities, a ban on transgender Americans serving in our military, attempts to revive the failed war on drugs and an all-out assault on civil and human rights, the influence of the alt-right is clear in the Trump Administration's policy agenda.
"Steve Bannon, Sebastian Gorka and Stephen Miller have long embraced the views of white supremacists, white nationalists and Neo-Nazis. These prejudiced ideologies have no place in the highest office in our land. I urge President Trump to remove (them) from the White House without delay."
Congressional Hispanic Caucus Chairwoman Michelle Lujan Grisham said:
"It is shameful that Steve Bannon, Stephen Miller, and Sebastian Gorka, who each have ties to extremist and white nationalist ideological groups and leaders, are serving as President Trump's top advisors.
"Extremists groups have used their presence in the White House to legitimize their divisive and violent rhetoric, ideology, and actions. They should have no role in creating national policy or pushing their twisted political agenda."