BART Police Respond to Alleged Dancing on Train, Arrest and Assault Young Woman
Posted in Police-Public Safety
By Spencer Whitney
When 19-year-old Nubia Bowe was returning home on BART with friends on the evening of March 21, she had no idea that it would be the worst night of her life.
The evening ended up with her being accused by police of intimidating a witness and her friends arrested for dancing and soliciting money on a BART train. She was slammed to the ground and struck repeatedly, arrested and sent to the county jail for four days. She now faces now four misdemeanors and was kicked out of school.
That's what happened when BART police responded to a complaint that young men were dancing on a train at the Lake Merritt station. Bowe and her friends, who had not seen anyone dancing on the train, were picked out as the culprits by one witness, who later recanted.
However, her friends were arrested, even though a train full of witnesses repeatedly told police the young people were not the perpetrators.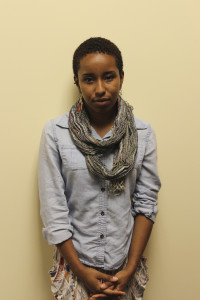 But the arrest was the only the beginning of the ordeal. Bowe was slammed to the ground, handcuffed and accused of resisting arrest, among other charges.
When she reached the county jail at Santa Rita, she says officers beat her for allegedly attacking one of the guards, and she was put in restraints, similar to a straight jacket. She was chained to a chair, and her face was covered.
As a result of the arrest, was kicked out of her training program at Treasure Island Job Corps.
When contacted by the Oakland Post, BART spokesperson Alicia Trost forwarded the police log, which stated, "A BART sergeant and officer were flagged down on a complaint of patrons on a train dancing, playing music and creating a disturbance.
"They did not cooperate and became combative. One suspect bit one officer causing a moderate laceration on his left arm. Two suspects were cited and released, one was booked into the Alameda County Jail."
"If there are any reports of police misconduct, we encourage people to contact our Office of the Independent Police Auditor, who will conduct an investigation," said Trost.
By press time, the Alameda County Sheriff's Office had not responded to the Post's questions.
The March 21 incident began when BART officers responded to a complaint that two young, male dancers were soliciting for money on the train. The two men who were accompanying Bowe were approached by the officers at the Lake Merritt station, with a witness who at first identified the young men as the suspects.
The men were instructed by the officers to get off the train for questioning. During the questioning, train riders told the officers that the three suspects had not engaged in the solicitation of passengers and that young people they were looking for had already left the train at the West Oakland station.
"We were on the train minding our own business when a man entered the train with two BART officers and told them it was us," said Levi Allen, one of Bowe's friends. "The guy came from a different car, and we had never seen him before."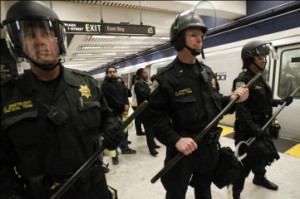 Bowe and her two friends are African American. She was a full-time student at a local security-training program. Repeatedly trying to explain that her friends were innocent, she told the officers that they were violating the young men's rights.
By this time, BART passengers were loudly calling out to the officers, saying the young people were innocent, and the police forcibly removed Bowe from the train.
The witness who had initially identified Bowe and her friends as the perpetrators later told officers they weren't the right group.
"Once they pulled me off the train, I was first slammed to the ground and then thrown against the wall," said Bowe. "The officers pushed me back down and continued to elbow and knee me in my back. My mouth was full of blood by then. The whole time this was happening, I repeatedly said 'I am not resisting arrest. You are violating my civil rights.'"
When Bowe's friends protested the young woman's treatment, they were taken upstairs away from the conflict. Some of the passengers recorded the confrontation on their cell phones showing footage of Bowe pinned down by officers while screaming for help.
Bowe was taken to the Lake Merritt station holding cell in preparation for transport to Santa Rita Jail on one felony and three misdemeanor charges.
When she arrived at Santa Rita, she was taunted, battered and denied medical care, as well as the right to make a phone call for three days. Bowe is 5'1" and weighs 105 pounds.
"Three male guards and one female guard came in my cell and beat me up," said Bowe. "They hit me and then said that I assaulted one of them. So they chained my wrists to my ankles and tipped me over onto the urine-soaked ground so I couldn't get up.
"I could tell they were trying to break my spirit."
She was in custody for four nights. Her bail was set at $120,000.
Though the felony charge was eventually dropped, the arrest resulted in Bowe being kicked out of her training program, where she was only two months away from graduating.
"This case represents another example of racial profiling by BART police," said civil-rights Attorney Dan Siegel, who represents Bowe. "Although the end isn't as tragic, its similar to the Oscar Grant case. Some person made a complaint about dancing on BART, Nubia and her friends were not the people dancing, and yet, she still faces two sets of charges for allegedly fighting with police and resisting arrest."
In light of the charges, Bowe's family and friends have started a group against police brutality called the One Shot Away Coalition. The coalition is saying that people of color are all one shot away from incarceration and/or death.
A trial date on the BART charges has been set for Aug. 5, and the pre-trial hearing on the Santa Rita charges is scheduled for May 19.
"She will forever have to deal with the trauma of her experiences," said Carroll Fife, Bowe's godmother. "We want justice for Nubia and those young men who were arrested. The district attorney is pressing for jail time, so we have to get prepared for a long fight with help from the community to get the word out."
Anyone who has information about the case or who wishes to learn more should go to www.facebook.com/oneshotawayba?fref=ts.