After 28 Years, Laney Instructor Al Young Is Still Fighting for a Full Time Job
Posted in Education/Schools/Youth, Equal Rights/Equity
By Ken Epstein
Al Young is nothing if not vocal and tenacious. A part-timer for the past 28 years at Oakland's Laney College in the cosmetology department, he has applied for a full time teaching position over and over, and he came in first more than once.
But he was never hired. The jobs generally went to someone new, almost always a woman.
Accompanied by his attorney, long-time Oakland community leader Hiawatha Roberts, Young has been making the rounds hoping to find an administrator or an elected official of the Peralta Community College District who is willing to take a look at his case.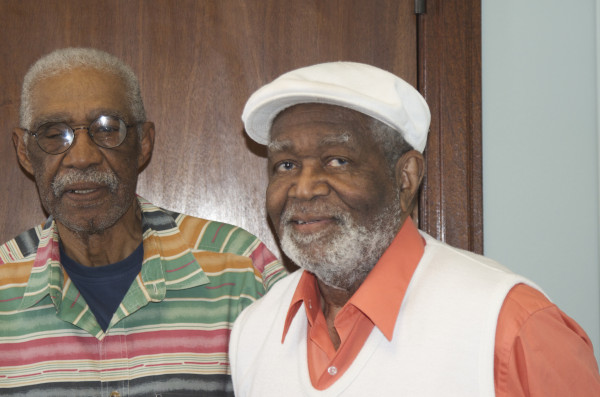 So far, not much luck. He still does not receive health or retirement benefits from Peralta.
He continues to work part time, two days a week. But he is unwilling to suffer in silence. He is blunt about what he feels Peralta administration has cost him.
"You stole my years," says Young, who is now in his eighties. "You stole my autumn years from me, and now you are taking my old age years from me."
Young was hired in 1985, recruited by the then department chair who visited him at the salon he owns, asking him to teach chemical services, wet hair styling and hair cutting.
"I didn't go looking for a job," he said. "At that point, there was nobody as familiar as I was in chemical services."
He has attempted without success to meet with two different Peralta chancellors. A complaint was filed and rejected by Peralta's attorney who claimed it was without merit.
"It's hard for me to understand it," said Roberts, the attorney who is working with Young. "I tried (unsuccessfully) to get people who specialize in this type of situation to be interested."
"He has been an excellent instructor – his students pass state exams. He has been pushed out because of his gender, because of his age and his disability," said Roberts.
Over the years, Young has remained healthy and has fulfilled his job responsibilities. "I haven't had too many physical problem. (But) I have had mental stress" because of the job, he said.
He says he has been repeatedly passed over because he is a male in a female department. He noted that a male instructor was finally hired in 2008 and became tenured recently after six years.
Young has had the backing of his union, the Peralta Federation of Teachers (PFT), AFT-CFT Local l603.
"Our union has been publicly urging the district for more full-time faculty hires, and so we'd hope Mr. Young's courageous voice helps magnify this important issue, " said Anna Roy, PFT Labor Representative, in an email to the Post.
"In terms of district hiring practices, we'd strongly advocate that full-time faculty members are hired from within whenever possible, that equal and fair opportunities are provided to all, that faculty working conditions are made a top priority here and within the entire California community college system," she wrote.
Another Laney cosmetology instructor, Helen Curry, told the Post that she is familiar with Young's work and is sympathetic to his plight.
"Mr. Young is a nice man. I've been teaching with him for years. He's an excellent teacher. He's an asset to the program," she said, adding that, "We need a male image in the program, (but) they never hired him."
Curry said she herself had to wait 18 years, passed over repeatedly, before she finally was hired in a full-time position in the department. "When a teacher retires, they split the salary among part timers, and that way they don't have to pay any benefits."
When they finally hire somebody full time, the department's administrators seems to think they prefer "fresh blood," said Curry.
"You'd think they'd understand they were messing with human beings, messing with people's livelihoods," she said.
"This is their way. People are just pushed to the side."