Unless Last-ditch Efforts Succeed, Doctors Hospital to Begin Closing in April
April 5, 2015
|
Last Updated September 9, 2021
|
|
Richmond
Posted in Community, Health, Responsive Government, Richmond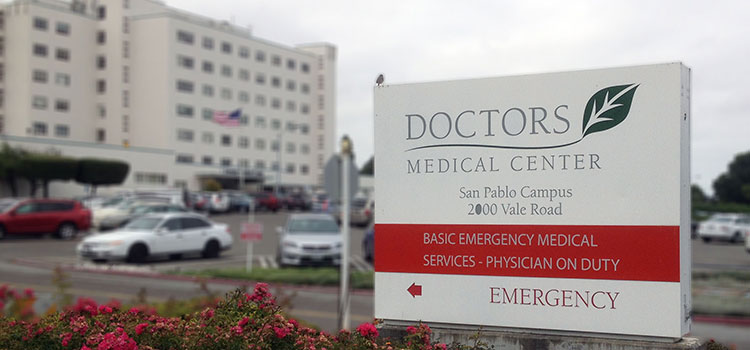 By Post Staff
Despite pleas from the public and staff at Doctor's Medical Center in San Pablo, the doors to the hospital that houses West Contra Costa County's only emergency room are scheduled to begin closing on April 21.
The West Contra Costa Healthcare District board voted March 26 to shutter the hospital but will wait until April 21 to give those interested in saving the hospital time to review a last-ditch proposal by a group that specializes in saving hospitals.
Residents and interested others packed the boardroom and expressed frustration and outrage that the board would close the hospital.
"It's a shame," said a man who didn't want to be identified. "This hospital is very important to this community."
The hospital averages 100 to 115 people in the emergency room a day. It stopped taking ambulance traffic in September 2014, and emergency room traffic dropped to about 50 a day – but those numbers have increased and people began coming back, according to records.
Doctor's Medical Center has the region´s only cardiac unit, cancer center, diabetes-wound care, and sleep lab program. With the hospital closure those departments will be gone.
Some at the board meeting voiced frustration, saying that if the hospital could remain open until January, it might be saved by an influx of cash from Chevron's Richmond refinery. T
The refinery has pledged about $15 million to the hospital – about $5 million for three years – as it revamps the refinery, but payments the payments do not begin until the work begins in January.
And, it is likely that when the hospital goes, the doctors' offices that surround the hospital will go, too. And with the closure, about 700 employees, some of the highest paid jobs in area, will lose their jobs.
The hospital's financial problems, which officials blame mostly on low reimbursement rates for Medi-Cal and Medicare patients, began in the 1990s. Those patients account for about 80 percent of the hospital's total patients.
Another 20 percent are uninsured and commercial patients.
Doctor's originally opened as Brookside Hospital in 1954.
When the hospital contracted with Tenet Health Systems in 1997, the agreement lasted just seven years before Tenet pulled out in 2004. Voters approved a $52-a-year parcel tax in 2004 and raised $5.6 million a year, but it wasn't enough to stop the operating losses.
Then in 2006, the district filed for bankruptcy protection. When the hospital emerged from bankruptcy, its managers tried other ways to save the hospital to no avail.
The state and even other health care companies provided cash and received funds from the advance payments of the parcel tax. Even a second parcel tax in 2011, which raised about $5.1 million a year, didn't help.
The hospital still fell into an $18 million a year deficit.