UN Report Says Oakland Guilty of "Cruel and Inhumane Treatment" of Homeless
Posted in Affordable Housing, Community, Environment, Gentrification, Homelessness, Housing/Foreclosures, Libby Schaaf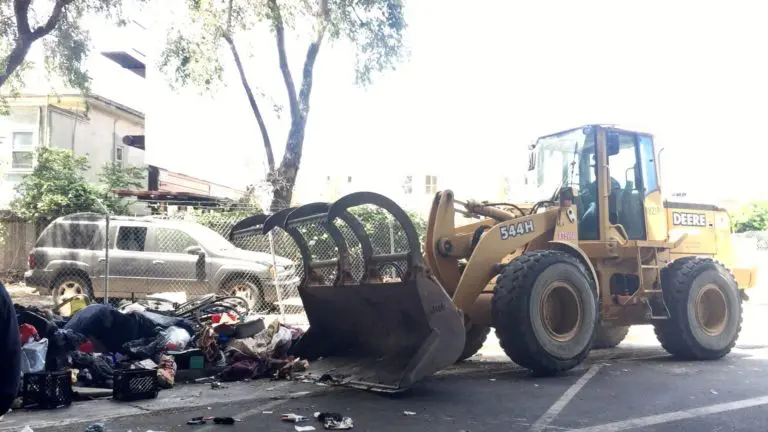 The United Nations Special Rapporteur to the Right to Adequate Housing, Lelani Farha, released her new report on Oct. 19 documenting the "global scandal" of homeless encampments.
In January of 2017, Farha spent time in the San Francisco Bay Area and Southern California to meet with unhoused residents and housed advocates and described the conditions as "cruel and inhumane".
The only U.S. cities explicitly called out for violations in the UN's report on global homelessness are San Francisco and Oakland.
She states that while the existence of "informal settlements" are human rights violations due to local government's lack of will to provide permanent housing to all residents, these encampments are also people's assertion to their denied human right of housing.
She declares curbside communities are acts of resilience, resourcefulness and ingenuity in the face of dire circumstances.
Rather than criminalize or ignore these settlements, until permanent housing can be offered to all, it is the duty of local governments not to evict curbside communities but to upgrade them and residents of these encampments should participate in all areas of the upgrading, including sanitation, clean water, food services and support services.
Homeless leaders and advocates in San Francisco, Berkeley and Oakland hosted Ms. Farha, including Coalition on Homelessness, Western Regional Advocacy Project (WRAP), East Oakland Collective, Village/Feed the People and First They Came for the Homeless.
Ms. Farha was able to hear and speak directly with people living in encampments and on our streets about the oppression, hatred and police violence they experience every day.
In Ms. Farha's report she frames the encampments and street dwelling in the United States under the same vein as the informal settlements around the world. Finding that "the scope and severity of the living conditions in informal settlements make this one of the most pervasive violations of human rights globally," states the report.
The Oakland conditions of discrimination and harassment of encampment residents and punitive denials of access to basic services constitute "cruel and inhuman treatment and is a violation of multiple human rights… Such punitive policies must be prohibited in law and immediately ceased."
The Rapporteur summed up her visit in California:
"I visited California and saw firsthand the human right violations being experienced by people who are homeless. They are the victims of failed policies—not the perpetrators of crime."
"That truth is that by any measure — moral, political or legal — it is unacceptable for people to be forced to live this way. Refusing to accept the unacceptable is where we must begin."
The report is available at https://wraphome.org/research-landing-page/legalresearch/