Team Oakland to Compete in International Children's Games
Posted in Community, Education/Schools/Youth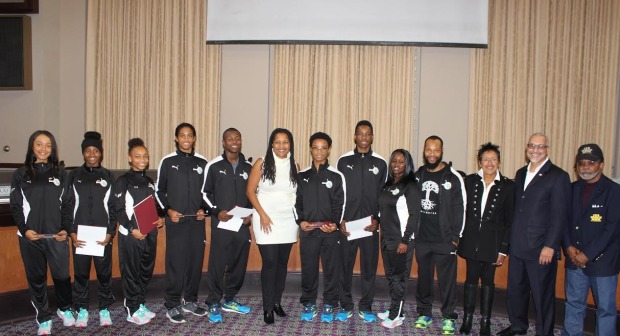 Left to right, Team Oakland athletes Najee McDonald, Briona Rivera, Jaden Nixon, Jordon Dabney, Jeremy Wshington, Councilmember Lynette McElhaney, Jalon Stanley, Amahd Mabry, Coach Nola Turnage, Caoch Michael Nixon, Elaine Brown with Supervisor Keith Carson's office, Chairman of 100 Black Men of the Bay Area Frank Tucker, Chairman Emeritus Lloyd Lawrence. Not pictured: team members A'Nia Diggs and Miles Duncan. Photo by Ashley Chambers.
By Ashley Chambers
A group of nine young track athletes are focused and excited as they leave the Bay Area this week to compete in the International Children's Games in Australia.
The International Children's Games is the largest multi-sport youth games in the world where nearly 1,500 athletes between 12 and 15 years of age compete each year.
Chosen among their peers as the best of the best, Team Oakland athletes have been in training since the end of their regular track season in August, preparing for the international games with coaches Nola Turnage and Michael Nixon.
They compete locally as part of Tommie Smith Youth Athletics Track and Field, sponsored by 100 Black Men of the Bay Area.
They are looking forward to their trip across the world to compete against young people from other countries and immerse themselves in a different culture.
"For me, it's a new experience. A lot of people don't have the opportunity to travel to other countries and experience different cultures – so it's awesome," said Jeremy Washington, who is part of Team Oakland.
The team was honored this week by Councilmember Lynette Gibson McElhaney and Alameda County Supervisor Keith Carson's office for their achievements to represent Oakland and the U.S. in Australia.
They will participate in the long jump, 4-by-100 meter relay and 100-meter competitions.
"It's very intense but awesome and exciting at the same time," said Jaden Nixon, who has been running track since she was 4 years old. She also participated in last year's international games, winning a gold medal in the 100 meter.
While this is not her first international competition, Nixon knows the contest will be harder, but she's confident that she and her teammates will be ready for the challenge.
"Expect the unexpected, because you never know what can happen," she said, hoping to one day qualify for the World Games and the Olympics.
For Amahd Mabry, who will embark on his first trip across the globe, it is "exciting and an honor" to be participating in the international games.
The nine team members are Jeremy Washington, Jaden Nixon, Amahd Mabry, Najee McDonald, Jordon Dabney, Briona Rivera, Jalon Stanley, Miles Duncan, and A'Nia Diggs.
The team will wear custom shirts with the slogans, "Born for Greatness" and "Team Oakland USA," designed by Jons, a local business that partnered with the team to inspire and motivate others.
"I'm looking forward to representing Oakland and my family, and living my dream," said A'Nia Diggs.
The International Children's Games will be held Dec. 8-10 in Australia.