Tagami's Charter High School Client Withdraws Because Location Is Next to a Parole Office
Posted in Community, Economic Development, Education/Schools/Youth, Environment
By Ken A. Epstein
An East Bay group of charter schools has suspended its application to move its Oakland high school to an office building across the street from a parole office, after news of the planned move was reported in the Post and later on local television news.
Leadership Public Schools had been seeking to relocate its Castlemont High School campus in East Oakland to office space with a capacity for nearly 500 students, owned by developer Phil Tagami's company CCIG.
The building is located across I-880 freeway from the Oakland Coliseum at the Oakland Airport Business Park. Zoning at the business park is controlled by the Port of Oakland.
"Please accept our withdrawal of our permit application to request a zoning of the Port of Oakland's Land Use and Development Code for the Oakland Airport Business Park to allow General Education Use and our development request for a charter school at 7700 Edgewater Drive," wrote Soo Zee Park, COO of LPS Schools in an April 7 letter to Chris Lytle, executive director of the Port of Oakland.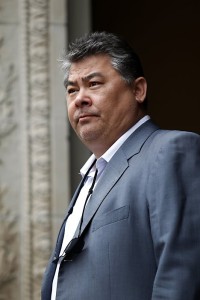 The Post published the news on March 13 about how local business leaders were raising concerns about multiple negative impacts od Tagami's and CCIG's planned move.
KPIX-Channel 5 ran a news story on April 3 about the school, "Oakland Charter School May Be Moved Near Parole Office."
Tagami's company had been working with the port to rezone the business park to allow the school to move across the street from the Oakland parole office, which sees 40-50 clients a day, at 7717 Edgewater Drive, belonging to the State of California Parole and Community Services Division.
CCIG had bought the property with four buildings and planned to renovate one of the buildings for the school. Under the development plan, which included no student parking, students would have to be dropped off or take the bus to reach the school – on the same bus line that parolees would take to reach appointments at the parole office.
"I'm happy to see that the charter school has withdrawn its application," said local businessman Bob Schwartz, who owns a company that is next to the proposed school. "This is the city's only business park, and it is not an appropriate place for a school."
Schwartz, who is an officer of the Oakland Commerce Corp., worked closely with Debbie Hauser, executive director of the Airport Area Business Association, to bring their concerns about the school to the attention of the port.
Hauser and Schwartz hope to work with the city and the port to protect the area's industrial zoning and bring new businesses to the business park.