School Board Votes to Close Kaiser Elementary School
Posted in Education/Schools/Youth, Fiscal Crisis Management & Assistance Team (FCMAT), Gentrification, School closures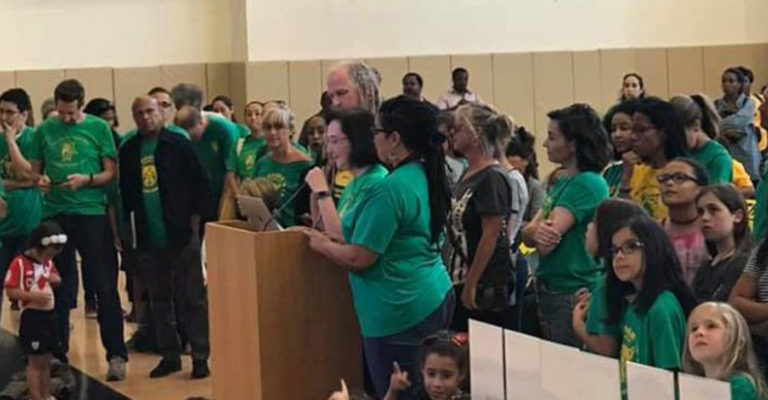 By Ken Epstein
The Oakland Unified School District (OUSD) Oakland Board of Education voted this week to close Kaiser Elementary School and move as many of the school's staff and families as the district can to Sankofa Academy.
Facing an angry standing-room only crowd of parents, students and teachers who booed their decision, the board voted 5-2 in favor of the "merger" of the two schools. Supporting the motion were James Harris, Gary Yee, Jumoke Hinton Hodge, Jody London and Aimee Eng. Roseann Torres and Shanthi Gonzales opposed the decision. The meeting did not end until 1:30 a.m.
The Kaiser closure was a continuation of OUSD's "right-sizing" policy to close or merge 24 or more schools in the next few years. According to district leaders, right-sizing the district will free up resources and staff that will lead to more high quality and equitable programs at the schools that remain open.
Kaiser Elementary is a high performing small school in the affluent Hiller Highlands neighborhood. Sankofa Academy, a low-enrollment school in the flatlands of North Oakland, has struggled for years as a result of the district's failure to keep its promises to the community of increased resources and the disruption of continually shifting reform efforts.
Opponents of school closures and privatization argue that an unstated 20-year policy of disrupting and closing schools that serve African American and Latino students, led by the school board and administration, has undermined public education in Oakland and is putting public school property on the block for sale or lease to charter schools.
In a statement released this week, Oakland Education Association (OEA) President Keith Brown blasted OUSD's repeated references to budget deficits as a false justification for closing schools.
"Three months ago, Oakland Unified projected a $19 million year-end deficit. In a revision to be presented to the school board this week, it has now become a $21 million surplus," Brown said.
"OUSD (has) claimed to be in a fiscal crisis, using it to justify school closures, hardball negotiations with teachers, classified employee layoffs, cuts to important students' services, and more recently withholding payments to the employee healthcare fund."
"Now, as then, OUSD has zero budget credibility."