Ron Dellums, "Political Lion of the Bay Area," Dies at 82
Posted in History and remembering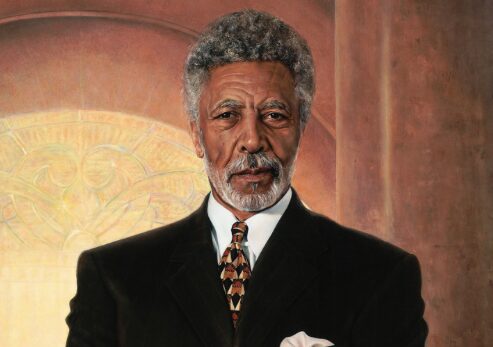 By Post Staff
Ron Dellums, a progressive political giant who was born in West Oakland and represented the East Bay in Congress for 27 years and later served as Mayor of Oakland, died early Monday morning in his home in Washington, D.C. He was 82.
According to Oakland Post Publisher Paul Cobb, quoted on ABC7, Dellums was "the political lion of the Bay Area. He was unafraid to challenge authority from a principled position. He stood strong and solid."
Cobb, a close personal friend of the former Congressman, was among those who pushed a reluctant Dellums to run for Oakland mayor, who served from 2007 to 2011.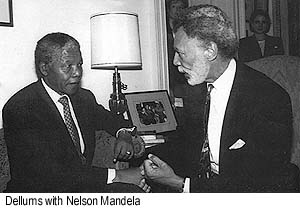 A former social worker, Dellums began his political career as a member of the Berkeley City Council before being elected to Congress 1971 as an anti-war in Vietnam candidate who then spent decades in the House of Representatives fighting for equal rights and social justice.
When he first arrived in Washington, he demanded a Congressional investigation into U.S. war crimes in Vietnam. Ignored by his pro-war colleagues, he held "his own informal hearings, which drew national attention," according to the New York Times.
"As antiwar protests raged outside the Capitol, a former Army sergeant told in unsworn testimony how he and his platoon had massacred 30 men, women and children in a Vietnamese village. It was a shocking beginning," the Times said in its obituary of Dellums.
As a member of Congress, winning a dozen election campaigns, he helped found the Congressional Black Caucus and served as chairman of the powerful House Armed Services Committee.
Dellums led a 14-year campaign against apartheid in South Africa. He eventually wrote the legislation in 1986 that mandated trade embargoes and divestment by American companies and citizens with holdings in South Africa.
Congress overrode President Ronald Reagan's veto of the bill, a first in 20th-century foreign policy. Sanctions ended in 1991 when South Africa repealed its apartheid laws.
In 1993, while serving as Chairman of the House Armed Services Committee, he was the sole sponsor of a bill to integrate gays and lesbians into the military.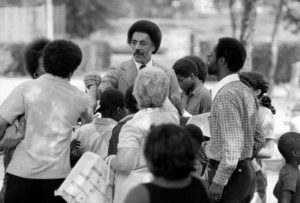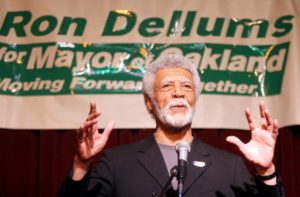 After retiring from Congress, he was recruited by Oakland residents to run for mayor. An informal group, a committee called "Draft Dellums," collected 8,000 signatures and presented them to the former Congressman at a public meeting at Laney College.
As hundreds of Oaklanders chanted "Run, Ron, Run," he famously replied, ""If Ron Dellums running for mayor gives you hope, then let's get on with it."
As part of his transition plan, Mayor Dellums brought the enthusiasm and energy of Oakland residents directly into the local governing process at City Hall, organizing 41
task forces that involved over 800 residents to make recommendations for new city policies, including public safety, jobs, anti-gentrification, support for small businesses, local hiring and education.
In 2009, Dellums reported that the city had implemented two-thirds of the task force recommendations.
He was the only mayor in the last several decades to dramatically decrease the cost of police overtime expenditures. Since Dellums left office, overtime pay for police officers has been growing rapidly again – with little discernable effort to keep these expenses within the city budget.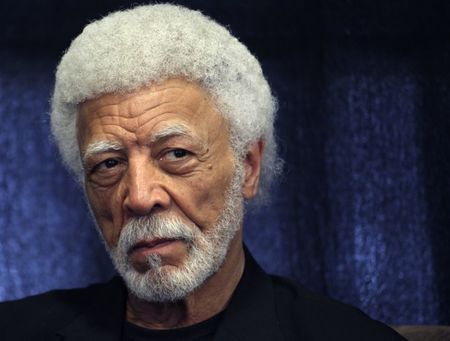 While in office, he cut the city's homicide rate by more than a third and insisted on the indictment of the BART officer who killed Oscar Grant,
The Dellums administration joined with the Oakland school district create a program to diversify the teaching force, bringing more Black and Latino educators into the district. His office helped a new program, Teach Tomorrow in Oakland, to obtain $2.7 million in federal funding.
He led citywide efforts to bring millions in American Recovery and Reinvestment Act federal and state stimulus funding to Oakland, totaling over $300 million. The new resources were prioritized for the needs of low-income residents in severe needs, resulting in the generation of over 14,000 short-terms jobs and other community benefits.
He pushed for the state to return local control of the school district to the city's residents, ending the state takeover that had been engineered in part by State Senator Don Perata and previous Mayor Jerry Brown.
Dellums hired a reentry specialist to work in his office and brought the formerly incarcerated into City Hall.
Born in Oakland on Nov. 24, 1935, Ronald Vernie Dellums was one of two children of Vernie and Willa (Terry) Dellums. His father was a longshoreman. His uncle, C. L. Dellums, was  an organizer of the Brotherhood of Sleeping Car Porters.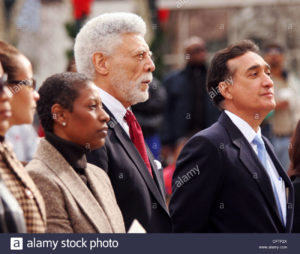 Attending McClymonds High School in West Oakland, he played baseball with the future Major League legends Frank Robinson and Curt Flood.
After graduating from Oakland Technical High School in 1953, he joined the Marine Corps. Discharged in 1956, he attended Laney College in Oakland. He earned a bachelor's degree in 1960 from San Francisco State College and a master's degree in social work in 1962 from UC Berkeley.
He was memorialized by his daughter Piper Dellums, who wrote:
"He was the first Democratic Socialist in Congress who also called himself a
feminist. He was a hero to the invisible, to the oppressed, to the lost and shattered, the marginalized, the despised and abused, the faceless, from the evicted to the incarcerated, from the healed to the disabled, from the activists to the veterans. He was a peace-monger….
"He was focused on human trafficking and the AIDS pandemic and the human condition and the Cuban Missile Crisis and human dignities in every race, gender, and sexual orientation including in the military."
As word of Dellums' passing spread,  social media was filled with an outpouring of love from those whose lives he touched. He is remembered by his family: his wife Cynthia
his children Pamela Holmes (deceased), Rachel Chapman, R. Brandon Dellums, Erik Todd Dellums, Piper Monique Dellums, stepson Kai Lewis, six grandchildren, and two great grandchildren.
Services will be held in Washington, D.C. and Oakland. Information will be provided at a later date.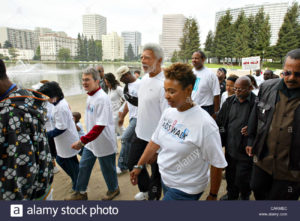 Assemblywoman Loni Hancock, center left, City of Oakland Mayor Ron Dellums, center, Congresswoman Barbara Lee, center right, and other local officials and members of the community take part during the third annual East Bay AIDS Walk at Lake Merrit in Oakland, Calif., on Saturday Sep 8, 2007. (Ray Chavez/The Oakland Tribune)