Restorative Justice: Mending the Lives of Survivors
By Stephanie Renfrow Hamilton
During a recent two-day speaking tour in the East Bay hosted by Restorative Justice for Oakland Youth (RJOY), anti-violence advocates Azim Khamisa and Ples Felix told audiences the traumatic story of how they met.
In 1995, Khamisa's only son Tariq, age 20, was out delivering pizza in the North Park section of San Diego, when he was shot and killed by Felix's only grandchild, Tony, then 14.
Khamisa said he was so paralyzed by grief that he felt suicidal for a while. "But I knew that if I did not forgive, I would remain a victim and there is no quality of life for a victim," he told his audience during an evening discussion at Allen Temple Baptist Church in Oakland last Thursday, May 30.
As young Tony Hick's guardian who "helped raise him since he was a peanut," Felix said he and his daughter (Tony's mother) were also devastated by the young man's crime.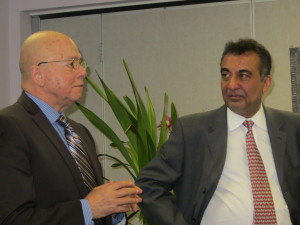 Tony, who was then a member of a street gang called the Black Mob, was one of the first teenagers in the State of California to stand trial as an adult. But after weeks of acting tough about what he had done, Felix recalled his grandson breaking down and sobbing at the thought of the pain he had caused the Khamisas. He pleaded guilty and is now serving out a minimum 25 year sentence in prison.
Within nine months of his son's death, Khamisa, an investment banker, started up the Tariq Khamisa Foundation dedicated to mentoring and teaching nonviolent coping skills to youth.
He soon approached Felix who worked in San Diego's community and economic development office and asked him to help him with his mission to stop children from killing children.
"When Azim first asked me to join him on this journey, I could see in his eyes that he was a God-spirited man," Felix recalled. "He told me both of us had lost a son that night." Since that time, both men have traveled across the country and around the world to tell their story.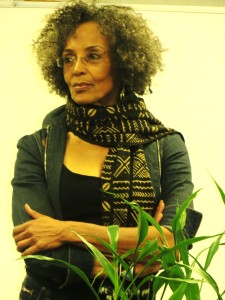 It took five years after his son's murder for Khamisa to join Felix on a visit to see Tony Hicks in prison. "When Tony came face to face with Azim[Khamisa]'s compassion," Felix told the group at Allen Temple, "I saw Tony turn around mentally, physically and spiritually and open up in ways that he had never been available to before."
Khamisa told the young prisoner that he would petition to get Hicks released early and that he wanted him to come work for the Tariq Khamisa Foundation when he got out. Since then Hicks has finished earning his bachelor of arts degree while in prison.
Inviting the public to hear Khamisa's and Felix's shared story is one the many programs RJOY has organized to promote a more "restorative" model of juvenile justice that emphasizes helping young law-breakers to take responsibility for– and attempt to repair– the harm done to victims and community members.
As a result of RJOY's work since 2007, the presiding judge of Alameda County's juvenile court set up a Restorative Justice Task Force. And in 2010, RJOY's pilot project in West Oakland Middle School inspired the Oakland Unified School District to move away from its zero-tolerance discipline model and adopt the restorative justice model system-wide.
At the close of last week's event at Allen Temple, Khamisa described the look of deep listening and engagement that he saw on the faces of young detainees in Alameda County's Juvenile Hall hours earlier. "We changed a few lives today," he concluded.